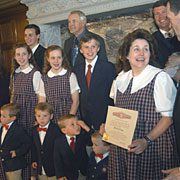 If memory serves me correctly in the early days of the Duggar family television specials makeup was distinctly frowned up, but if the US Weekly article is anything to go by that has changed as well as many other things. Remember when Michelle and all the girls wore those loose sack-like jumpers with huge 'countenance-enhancing' collars? But then again, many Evangelical women I knew (including myself) once dressed like that. It was the uniform of the Good Christian Woman(tm) at one time.
Below is a list of Duggar rules on dress from US Weekly Magazine Issue 1025 October 6, 2014 – The Duggars Rules of Romance
Dress Code: Duggars believe bodies are 'special gifts' to be shared only with husbands

LONG LOCKS: The Bible calls a woman's hair her 'glory.' Duggar Girls style and spray daily.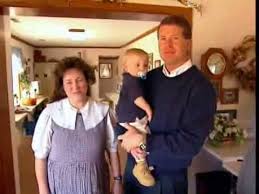 No mention of the fact that ATI/IBLP Bill Gothard is where they got their long stylized curls hair styles. Yes, it's the preferred hair style of the Grabby Hands one.
MAKEUP: Cosmetics 'honor the Lord,' they say, by enhancing what He gave them.
Most of the fundamentalist evangelicals out there seem to frown on makeup. Trust the Duggars to make it 'Godly.
HIGH NECKLINE: Shoulders and cleavage should not be shown: they may arouse men.
Again with the men are beasts that cannot be trusted to control their libidos is so insulting to men in general.
The Duggar daughters swimming in a sea of cotton fabrics.

MIDISKIRT: An uncovered thigh is a form of nakedness. 'Modest and cute' options are found at thrift stores.
Yeah, and also everywhere else! There's nothing wrong with shopping at thrift stores but they are hardly your only options. How frequently they get mentioned makes me wonder if the Duggars are secretly being paid to plug thrift shops.
QUOTING QUIVERFULL is a regular feature of NLQ – we present the actual words of noted Quiverfull leaders and ask our readers: What do you think? Agree? Disagree? This is the place to state your opinion. Please, let's keep it respectful – but at the same time, we encourage readers to examine the ideas of Quiverfull and Spiritual Abuse honestly and thoughtfully.
Since this is a Duggar-related posting if you are a Duggar fan and here for the first time please read our Duggar Fan Comment page before posting!
If this is your first time visiting NLQ please read our Welcome page and our Comment Policy!
Comments open below
NLQ Recommended Reading …