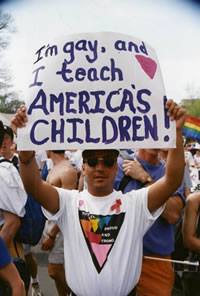 by Nancy Campbell of Above Rubies – Do We Have Our Heads In The Sand?
Notice that Nancy does not once bring up the word 'homeschooling' yet every point she brings up seems to lead right to homeschooling as the only way. Coded language. Heaven forfend some Arab or Gay teach her children!
She also doesn't mention if she feels the same way about educating her abandoned adopted African children. Where are those kids now?
Are we aware of the accelerating of the indoctrination in our public schools away from everything that relates to God and family. Or do we have our heads in the sand? Islam is now taught in many of our schools, but the Bible, the Ten Commandments, and prayer are out! One of our children's textbooks says, "I bear witness that there is no God but Allah." Some history books teach that Muslims discovered America and that Jerusalem is an Arab city. That's just some of the "history" that students in America's K-12 classrooms have been taught in recent years–with the help of taxpayer money.

And what about the gay agenda which is radically and subtly becoming more and more part of the school agenda? Liberal educators teach students that being a homosexual is not much different from being left-handed. They are encouraged to be "open-minded" and try this lifestyle before deciding their preferred sexual orientation. This is only tip of the iceberg of what is happening while we merrily go along our way.

Every father and mother is vigilant in protecting the physical bodies of their children. But what about their souls and spirits? As Bible-believing parents, how can we send our precious children into this system, a second home away from home, to be indoctrinated against all that we believe? Don't we want them to have an education that affirms and enforces what we believe?

The psalmist stated in Psalm 119:30 "I have chosen the way of truth." I am sure this is also your testimony. But are we choosing"the way of truth" for our children? If so, we'll be rescuing them from this system where they are subtly indoctrinated in a humanistic and atheistic agenda.

We go back to the first Psalm to find who God blesses: "Blessed is the man who walks not in the counsel of the wicked, not stands in the way of sinners, nor sits in the seat of scoffers; but his delight is in the law of the Lord, and on his law he meditates day and night" (ESV). Every day children sit in the seat of scoffers in our public schools. You can't find one mention of God's Word, let alone delighting in it, in all the hours they spend there each day, each week, and each year.

Psalm 1 tells us what happens to the wicked counselors. They are like the chaff that the wind drives away. They will not stand in the time of judgment, and their way ends in destruction (Psalm 1:4, 5). Why send our children to receive counsel that will be blown away like the wind? Instead, bring them home where they can be filled with the truth that "lives and abides forever"(Matthew 24:35; 1 Peter 1:23; and 1 John 2:17).
QUOTING QUIVERFULL is a regular feature of NLQ – we present the actual words of noted Quiverfull leaders and ask our readers: What do you think? Agree? Disagree? This is the place to state your opinion. Please, let's keep it respectful – but at the same time, we encourage readers to examine the ideas of Quiverfull and Spiritual Abuse honestly and thoughtfully.
If this is your first time visiting NLQ please read our Welcome page and our Comment Policy!
Comments open below
NLQ Recommended Reading …