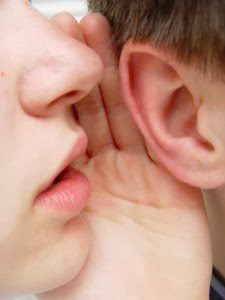 by Ellen cross posted from her blog When Church Hurts
Though we never had a meeting with Elliot or the leadership, I was again asked to teach a class and was also helping with a conference that our church was hosting in the spring. When it came time for the conference, I had an opportunity to sit down with the speaker for a few minutes and, being a man of great discernment, he asked me some leading questions and I found myself telling him a bit of my story.
His face turned somber as I said the words, "No one who told me that I would not be allowed to serve, to attend, to participate, ever had a conversation with me." His face showed relief when I said: "Every person who said those things to me is gone. They have either been fired or moved on." (Phillip was fired after several years, as was Darin. Others moved away or took new positions elsewhere.)
Upon hearing that none of the people who had borne the messages to me that I could not serve in the church were no longer there, he smiled and said: "They should be gone. They are guilty of the 'sin of reproach' and they should not be allowed to continue in ministry."
Reproach. I did some searching online and here's what I found at reproachofmen.org:
"But I am a worm, and no man; a reproach of men and despised of the people." – Psalm 22:6 The term "reproach of men" appears only twice in the Scripture. The above verse from Psalm 22 speaks of the fact that from the time the Lord Jesus Christ was arrested until His death on the cross, virtually every one in Jerusalem turned against Him. Those who were not against Him, were apathetic to His suffering, not caring that an innocent man would die." In some ways, this brought me comfort, but in others it did not.
As time passed, I became more confident in sharing my story verbally with a few select people and with a few, I shared the password to read it on my blog. Then last fall, I enrolled in a class that Ethan, Elliot's brother was teaching. A woman in the class with whom I had been acquainted for many years – who also taught classes and assisted with things like conferences – shared some hurts that she had endured throughout her life – hurts from the judgment of being an unwed mother, having a son who was living a questionable life-style, etc. – and how "Christian" people had judged and ostracized her for many years. I commented to her that I, too, had a story of pain and judgment at the hands of Christians and if she would like to read it, I would send her the link to the blog and the password. I was very clear that I only shared the password with a very few people and that I change it regularly so that I can control who sees and reads it. She was anxious to read it and afterwards, she said that it was "very enlightening" but she didn't say anything more.
Also as part of the class, there was a book on forgiveness that spoke deeply to me. At the same time, it was announced that Jonathan was going to be leaving to go to a large mid-western city to plant a church. Since Jonathan had been named in the conversation I had with Darin as being part of the decision-making about my ostracism, I decided that I would extend forgiveness to him. So, (yes) I sent him an email.
I explained to Jonathan that I had harbored a hard heart toward him because of the conversation that Darin had with me years before on the sidewalk and that I just wanted to tell him that I had forgiven him. Jonathan replied to me that he had no recollection of the situation that I was referring to. He also indicated that he might be mistaken – giving the impression that perhaps he had simply forgotten after all of the years that had passed. His email thanked me for my courage in sharing with him and how he looked forward to our relationship in the future before he and his family were to move. I was encouraged by his words and so, in order to prompt his memory, I sent him the link to my story and asked that he demonstrate his integrity by not sharing the password or the story itself with anyone as I had been very careful in protecting it.
It was only a short time later that I was at a meeting for the teachers of the church and Ethan stood up and declared that if anyone has an issue with leadership, they should carry out Matthew 18 rather than putting their grievances on the internet for all the world to see. Catching himself, he quickly declared that he was going to have to talk to someone that week about some things they had put on a blog, but, he was quick to clarify that this person was a man and it was not someone in the room that night.
I drove home with my heart racing and my entire body trembling. Ethan had said that he was talking about a man and that the person was not in the room so maybe I didn't need to worry. But I was panicking. What if it was me and my blog he was really talking about? What if he was lying?
When I got home, I immediately told my husband what Ethan had announced. We were hopeful that he was being honest in saying that the person who had given cause for concern was a man who was not at the meeting that night, but only a couple of days later I received an email from Ethan saying that he needed to meet with me about my blog. Since it was just a few days before Christmas break, he wondered if we could meet while I was on break.
At that point, my husband finally became entirely fed up with the whole situation and responded to Ethan's email by saying that he wanted to meet with him first, and that he would be present for any meetings that were held with me. Ethan replied by stating that this was a good idea – that he had intended for my husband to be at the meeting anyway. This had to be a lie because Ethan didn't mention my husband in his initial request for a meeting and he requested that the meeting be during the day while I was on break from school and he knew that my husband would be working. Ethan told my husband that he would be happy to meet with him but that my husband needed to familiarize himself with my blog and my emails to Elliot over the past several years. This, of course, was an affront to my husband because it gave the impression that my husband was not aware of the wickedness of his wife in her blog and emails. My husband had always been aware of my emails – often proofreading them before they were sent – and he also knew about my blog, my story, and every person whom I had shared it with.
What that email really told us was that ultimately, I suffered from all of that judgment and ostracism because I had not just 'let the matter drop' from the very beginning. From those first emails in which I told Elliot that Denise and the Personnel Committee had mishandled the situation with Phillip and me, Elliot had made the decision that I needed to be pushed out. I think it was a surprise to Elliot that I didn't leave. Perhaps he thought that, as a musician, if I couldn't participate at this church, I would leave and participate in the music elsewhere. When that didn't work, he had his "leper" (see the post "Of Shepherds and Lepers" on my blog whenchurchhurts.wordpress.com) tell me I couldn't attend a class, followed by no leadership, followed by no bringing of treats, followed by no helping in the nursery, followed by "You can't do anything here except attend services." He must have been stunned when none of those things caused me to leave. He must have been stunned that I could extend that kind of grace and fortitude. Ethan let the cat out of the bag by telling my husband to read those emails. Since that was all they had to hold up as an accusation – that and my blog, in which I "told" my story – the story I was to never tell anyone – not even my husband, we finally knew how petty and contrived those years of spiritual abuse had been.
My husband fired back a reply to Ethan saying that the meeting with me needed to consist of an apology to me for all the years of spiritual abuse that I had suffered at the hands of the leadership. He said if it did not include an apology, we would leave the church.
Ethan promptly responded to that email by telling my husband that there would be no meetings and that we were not to return to the church.
Later that night, in a Facebook message, the lay-leader of the congregation, Percy, told me that he was very sorry but that he could not get involved because it would get "complicated" with Ethan if he tried to interfere. He and Ethan had been friends since boyhood. We can only surmise that Percy felt that if he were to intervene, he would become a victim, as well.
I also got a text message from the woman in my class whom I had shared my story with just a couple of months before. She said, "I want you to know I will always like you and I don't know what I would do if I were in your situation." She and I had planned to have breakfast together on the Saturday between Christmas and New Year's so I texted back and asked, "Are we still planning on meeting for breakfast?" She never replied.
The next week I had lunch with a (now former) friend, Katrina, who also teaches and writes some of the churches class materials. When I arrived at the cafe, she was already there and Ethan's daughter was sitting with some friends a few booths away. As I sat down with Katrina she said, "Did you see Ethan's daughter over there?" "Yes," I replied. "I wonder if I should stop at the church on my way home and explain to him why I was meeting with you?" Katrina wondered.
I was aghast. Why would Katrina have to explain to Ethan the reason she was having lunch with me? During our conversation at lunch that day (over a week after the meeting with the teaching staff where Ethan announced someone had put grievances on a blog) Katrina told me that Ethan had drawn her into his office the week before that teacher's meeting took place – a week before he had emailed me – and he had told her about my blog. He had discussed my blog with Katrina a week before he contacted me to set up a meeting!! I was seeing just how unscrupulous the leadership of the church really was! It was obvious that Ethan and probably other church leaders, were telling people to shun me.
As I shared my experience with her, I asked Katrina several times if she would agree that I deserved an apology. And while her body language said "yes," her spoken words were, "But Ellen, you made it public." To which I would reply, "No, I didn't make it public. I was very careful about who I shared my story with." But, Katrina had bought into that old "Can't Talk" rule. And she was obviously of the mindset that you support the leadership no matter what. I believe Katrina was in the same predicament as Percy. If she were to make any attempt to support me, she would risk her own position and status in the church.
I also had a friend named Delaney who heard that we had been told to leave the church. She emailed and asked me what happened. I replied asking her to call me. When I didn't get a call or an email back, I emailed again. I never heard from her. Her son was on staff as a full-time worship leader in the church so I am sure she did not want to jeopardize his position by continuing to be my friend.
Through those first couple of months, I still thought there might be hope, and so I shut the blog down and waited for someone in leadership from the church to contact us. No one ever has.
It has been through being tossed out of the church that I have found my voice. I no longer fear the leadership of our former church – or of any church, for that matter. I have become a champion for those who have suffered at the hands of church leadership and will continue to declare with a loud voice that "God will never leave you or forsake you! If the church does, they are not representing Him. He is not like them and they are not like Him." I so hope that God will use my experience to help others to find friendship, help, hope, and healing.
Part 1 | Part 2 | Part 3 | Part 4 | Part 5
Ellen is a member of the SASBN and she blogs at When Church Hurts
More about Ellen:
Several years ago I was the victim of a most heinous form of abuse unlike anything I had ever thought possible. Not having been raised in a Christian home, my first experience with Christians and pastors had been one of joy, grace, fellowship, love, and delight. When faced with the horrors of having the very essence of who I was as a woman of faith stripped from me in what I can only describe as spiritual rape, I couldn't comprehend what was happening. This was church, after all, and I believed that everything works together for good for those who love God. Somehow, it didn't make sense that everything was not working together for good. When I was finally able to resign myself to the fact that God was not going to "work this out," I made my escape and sought a safe haven.
Little did I realize that I was going from the proverbial frying pan into the fire. Oh, how I tried to beat back the flames! Oh, how I prayed and pleaded for mercy, for grace, for a chance. "But hate is strong and mocks the song of peace on earth, good will toward" Ellen.
He who began a good work . . . had forsaken me . . . and the silence was more than deafening . . . it was defeating. So intertwined were we, that as God went missing, so did Ellen. But I am nothing, if not tenacious.
If this is your first time visiting NLQ please read our Welcome page and our Comment Policy!
Comments open below
NLQ Recommended Reading …