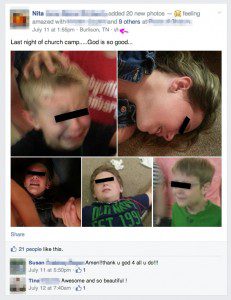 Serious trigger warning: If you are sensitive to crying children and loud demanding adults. Trigger warnings also on a church exploiting the images of children.
Found this on the Facebook group for Recovery from IFB. It is also posted at Awkward Moments Children's Bible and on their Facebook page. Looks like it was originally posted by the Rose of Sharon church camp in the Memphis, Tennessee area. Thoughts?
There is no way to me to post the video here using the scanty video resources available on NLQ so please go view it on the Awkward Moments Children's Bible Facebook page (link opens new page) Also do not want to host those poor kids video image here. They cannot help it if the adults at Rose of Sharon Camp want to exploit them, but we don't have to play along. If you care for your child's emotional well being please do not sent them to this 'camp'! This looks very much like organization child abuse from here.
Apparently the people connected with the Rose of Sharon camp publicly posted all the video and photos and then because incensed about the fact that others were sharing what they had posted. They've been threatening others, putting pressure on sites to remove the material. More on that at Awkward Moments. Here is their disclaimer:
** FAIR USE NOTICE** This PUBLICLY shared video (that was also released online as the result of a legal consent waiver signed by parents) is being shared here for the sake of social commentary under FAIR USE – 17 US Code § 107. (Please see the Legal/Privacy note at the bottom of this post.)

UPDATE: For more on this story, where the video (and photos) came from, and how the content has been removed from several pages, read our blog: http://www.awkwardmomentsbible.com/child-coercion-memphis-church-summer-camp/

This clip was PUBLICLY shared from a church camp last week by one of the leaders – to shouts of celebratory praise from others involved. What are your thoughts? Are these kids simply enjoying their religious freedoms and "praying in the spirit," or ??? Is it really "Awesome and so beautiful"?

I RECOMMEND WATCHING THREE TIMES. First, just watch it. Second, close your eyes and only listen to the ADULTS. Third, watch the video again and notice how the youngest kids are being manhandled. And, watch the body language and facial expressions of all the kids closely. What do you think? Harmless? Are these kids in full control?

QUESTION: How is this not considered child abuse? No, really – from a psychological perspective of manipulation, coercion, peer pressure, shame, guilt, and fear – think about how these kids are expected to perform for the authority figures with video cameras. If these American children reciting mantras for anything but a Christian perspective, would there be more public concern?

LEGAL PRIVACY NOTE! Please understand that these photos and videos were shared PUBLICLY (as indicated by the globe icon) on a social network designed to share content – by an adult who worked at the camp. However, to shield the original poster (and commenters) from potential public outcry, the names and photos of the posters and commenters were blurred. Additionally, the parents of these children signed the following release/waiver to allow these photos/videos to be taken and shared publicly – as they were… PUBLICLY. The purpose of this post is not to "name and shame" individuals, but as a commentary on the potential dangers of religious indoctrination on young children.

WAIVER REQUIRED FOR CAMP ADMISSION:
"I also give my permission for Rose of Sharon Church Camp, Inc.to use any videos, photos, or audio tapes taken of my child during camp for promotional purposes in the future. "
http://www.roseofsharoncamp.org/2014/2014%20Youth%20Camper%20App.pdf
This is something worthwhile asking any religious organization, camp or Sunday school you may send your child to. What type of images may be taken and will they be publicly shared in a manner that does not protect my child's right to privacy?
SERIOUS QUESTIONS: Just how many adults does it take to restrain and surround a crying 6 year-old blonde boy? Some charismatics might simply dismiss it as a "laying of hands". Even if I were to concede that this may have have been the more passive approach of the adult male who circles around behind the boy at the end of the section. But, what about the two adults holding his wrists? What about the adult with the video camera, giving him orders? How terrifying would this be for a young child? How much control do you think that poor boy felt over his situation? It would scare the living hell out of me and I'm almost 40.

So, we decided the content was worth sharing as publicly as it was originally intended. However, since we would be posting it from our on Facebook page's wall, we removed any personally identifying information of the poster and commenters (blurring photos and last names) . In our post, we tried to make it clear that we were not trying to "name and shame" anybody personally or from the church organization. Yet, within minutes of going viral again, many counselors, parents, volunteers, and previous campers rushed to our page to attempt to justify the content as showing the children innocently "being slain in the Spirit – nothing is more amazing" or "being overcome by the amazing love of Jesus" or "speaking to God in HIS language is beautiful music to HIS ears!" I feel I should mention, there were also many comments along the lines of, "You are all just evil agents of the enemy, viciously attacking our religious freedoms and persecuting our beliefs!" At the same time, various counselors and parents began posting various public rebuttals to the wall as well.
So many issues! Too many to list here. What do you think, dear readers?
lIf this is your first time visiting NLQ please read our Welcome page and our Comment Policy!
Comments open below
NLQ Recommended Reading …