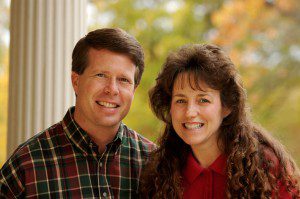 by Vyckie Garrison – Founder of NLQ
The Duggars, who are featured in the TV show "19 Kids and Counting," have so far donated $10,000 toward the campaigns of the three most outspoken opponents to Fayetteville's new Civil Rights Administration ordinance. The Duggars gave $2,000 to John La Tour, and $4,000 to both Joshua Crawford and Paul Phaenuef.
The new law would prohibit business owners and landlords from unjustly firing or evicting someone because of their sexual orientation, gender identity and other characteristics.
From the Fayetteville Flyer – Duggar family spends $10,000 to help Repeal 119 candidates in Fayetteville City Council Election
Remember those robocalls featuring Michelle Duggar earlier in the year? They were about this issue.
Shortly before the council vote in August, Michelle Duggar narrated a robocall sent to Fayetteville residents that claimed the new civil rights law would affect the safety of women and children. In the call, Duggar echoed the claims of several local pastors who said protections based on gender identity could lead to men using women's restrooms or showers, and that the ordinance would be "opening a door" for pedophiles and sexual predators who wish to abuse people.
 Since this is a Duggar posting, it means that Duggar fans coming here will see this six months to 2 years out of date and flounce about angrily in the comments. Before all that flouncing commences please read our Duggar Fan Comment Policy first!
If this is your first time visiting NLQ please read our Welcome page and our Comment Policy!
Comments open below
NLQ Recommended Reading …