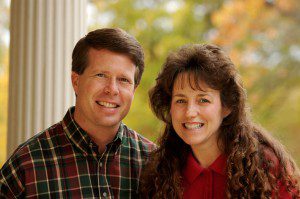 Looks like between Michelle Duggar's robocalls about gay rights laws in Fayetteville, Arkansas, the money the Duggar's donated towards anti-gay politicians and last week's Duggar Facebook Marriage Kiss Challenge deleting photos of gay couples has had some interesting ripples. Chiefly that there is a petetion up on Change.Org asking The Learning Channel to cancel the Duggar family television show '19 Kids & Counting' because of the Duggar family's public homophobia.
The Huffington Post wrote bout it today – Thousands Sign Petition To Cancel TLC's '19 Kids & Counting' Over Stars' Anti-LGBT Sentiments
From the article:
Wissick highlights Michelle Duggar's involvement in a robocall against an anti-discrimination housing law affecting the transgender community in Arkansas. In the call, which was made to state residents in August, Michelle said transgender women should not be able to use the proper restroom and dubbed them "males with past child predator convictions that claim they are female."

The Duggars' Facebook page has also been embroiled in controversy. Last week, the couple posted a Facebook photo of themselves kissing and encouraged other married couples to share their own shots. John Becker, of LGBT blog The Bilerico Project, posted a photo of him kissing his husband, along with a message about marriage equality; he says his photo was later taken down and that he was banned from the Duggar's page, E! News reports.

Homophobic ties extend to the Duggar children, too. Eldest son Josh Duggar is the executive director of the anti-gay Family Research Council's legislative group, FRC Action, which is notorious for outrageous claims linking homosexuality with pedophilia and promoting the discredited theory of ex-gay therapy.
About time someone realized what these people are really all about. It's not good. They follow some of the most dangerous and deceptive theology out there, including believing in spanking babies as young as six months. Two of the big ministries they support have been involved in sex scandals involving older men in leadership positions preying sexually on underage girls. They want to strip you of your rights to determine if you will children, they want gays treated like they are sub human and do not believe in rights for children. Is this really what we want for our great nation?
You can sign the petition at 'End LGBTQ fear mongering by the Duggars' at Change.Org
Since this is a Duggar posting, it means that Duggar fans coming here will see this six months to 2 years out of date to rant and flounce about angrily in the comments. Before all that flouncing commences please read our Duggar Fan Comment Policy first!
If this is your first time visiting NLQ please read our Welcome page and our Comment Policy!
Comments open below
NLQ Recommended Reading …