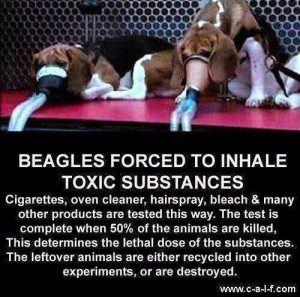 by Steven L. Anderson pastor of Faithful Word Baptist Church and husband of Zsuzsanna Anderson – Enough With The Animal Worship
Trigger Warning for those of us that are animal lovers.
Guess he skipped those parts of the Bible that said wise righteous men take good care of their animals, like Proverbs 12:10 – (from the New Living Translation) "The godly care for their animals, but the wicked are always cruel."
Isn't this how serial killers start out? With zero compassion for animals?
This picture has been going around facebook with the caption: "Can't we just do this test on the people who did it to these beautiful, innocent beagles?" People are commenting things like, "This makes me feel violent," and, "This is wrong for so many reasons."

Actually it isn't wrong at all. They are testing it on animals in order to keep humans safe.

What is really wrong is the caption under the picture that says, "Can't we just do this test on the people who did it to these beautiful, innocent beagles?" What kind of a sick pervert would want to murder human beings because of how they treated an animal?! Jesus sent 2,000 pigs off a cliff to save 1 human life. People need to stop treating animals like they are people or something.

Recently there was a story in the news about a 15 year old girl who put a cat in the microwave. She was punished with 80 hours of community service, and people were freaking out and saying that it wasn't enough. Comments ranged from, "Give her 80YEARS of community service, " to, "Put HER in the microwave."

Obviously I agree that it was a stupid thing to do, and that she should have been punished by her parents (give her a spanking and be done with it!). However, in my opinion, 80 hours of community service is more than enough punishment. Anyone who wants to see her put in a microwave is mentally ill, and yet that comment was not out of the ordinary. Comments like that are the norm for stories like that. By the way, the cat was not even harmed and is doing fine (what a relief!)

Something is seriously wrong with our society when we put animals on a pedestal. This animal-worshiping trend did not come from the Bible, and Christians should beware of adopting this perverted view of animals that elevates them to the level (or even above the level) of human beings. God created animals to be slaughtered, butchered, and eaten by humans. Their feathers are in my pillow, their skin is on my shoes, and their fat is in my soap!
QUOTING QUIVERFULL is a regular feature of NLQ – we present the actual words of noted Quiverfull leaders, influential bloggers and cultural enforcers and ask our readers: What do you think? Agree? Disagree? This is the place to state your opinion. Please, let's keep it respectful – but at the same time, we encourage readers to examine the ideas of Quiverfull and Spiritual Abuse honestly and thoughtfully
If this is your first time visiting NLQ please read our Welcome page and our Comment Policy!
Comments open below
NLQ Recommended Reading …