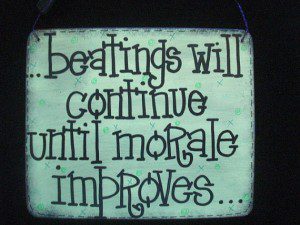 by Nancy Campbell of Above Rubies – Cheer Up Your Home Today
Many times when preparing a Nancy Campbell post for Quoting Quiverfull I am reminded of that old sign that reads "The Beatings Will Continue Until Morale Improves". This is more of the same.
Psalm 46:4 (JB) says, "There is a river, the streams of which make glad the city of God, the sanctuary of the tents of the most high." The city of God consists of the homes of God's people. To have a joyful city we must have joyful homes. To have a joyful nation, we must have joyful cities, filled with joyful families. In the same way, we can never have a righteous nation if we don't have righteous homes.

How do we have joyful homes? It is only through the RIVER which speaks of the Holy Spirit who flows out in many streams. The Holy Spirit wants to flow out in streams in your home–streams of joy and gladness. Streams of love, forgiveness, sweetness, healing, encouragement, and building up. Streams of compassion, kindness, tenderheartedness, humility, meekness, longsuffering, patience, and peacemaking.

They should be flowing streams, never stagnate. They may not all flow at once, but they are ALL IN THE RIVER to pour forth in gushing streams as they are needed in the home.

As these streams flow, they gladden the home. The Hebrew word "make glad" is "samach" and means "to brighten up, cheer up, rejoice, make merry and very glad."

Dear mother, I hope you are not filling your home with complaining, negativity, sourness, and bitterness. Yield yourself to the River of the Holy Spirit. Ask Him to fill you and flow forth in streams into your home to bring gladness and cheer to your husband and children (John 7:37-39).

"MAKE GLAD your motherhood today. "MAKE GLAD your home today."
QUOTING QUIVERFULL is a regular feature of NLQ – we present the actual words of noted Quiverfull leaders, influential bloggers and cultural enforcers and ask our readers: What do you think? Agree? Disagree? This is the place to state your opinion. Please, let's keep it respectful – but at the same time, we encourage readers to examine the ideas of Quiverfull and Spiritual Abuse honestly and thoughtfully
If this is your first time visiting NLQ please read our Welcome page and our Comment Policy!
Comments open below
NLQ Recommended Reading …