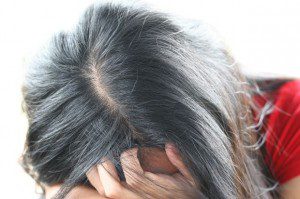 by Jenny Erwin from United Christian Homeschoolers Upstate – Wednesdays Words of Encouragement: May 'He' Get All The Glory
Found this through Ladies Against Feminism and Be Not Weary websites. This sounds so very much like the stories of many of us Quiverfull walk-away moms that it's frightening. The difference is that she's still at that place where she cannot admit her own chosen religious lifestyle is causing her great physical harm. I hope she makes the connection soon and does what she needs to do to heal her body. Any life style that is destroying your body cannot be healthy for anyone, it sure doesn't benefit  anyone in the family, it makes it nearly impossible to do the things necessary to raise your children.
I was going to do it all. Have a godly marriage, a large family, homeschool, bake and cook healthy meals. My children would wear matching clothing, they would be always obedient, and never have dirty faces. I would be the one with the fresh baked cookies and flowers arranged neatly in the vase, having been just plucked from my perfect garden. My house would be always a warm place of hospitality with order and cleanliness abounding. And did I mention I would homeschool? Yes, I had great plans. After all, I had been taught at home from 6th grade on. I had it all figured out. Piece of cake!!

Shortly after my firstborn turned four, I was raring to go! A full curriculum complete with teacher's guide had me ready to tackle raising my little protegee. I would beam with pride as my young man could read at an 8th grade level by 6 years old. I was on my way!

But, as baby after baby came the pregnancies, morning sickness, breastfeeding, sleepless nights and caring for lots of littles was a challenging task. Now instead of a perfect orderly house, I had legos on the floor waiting to be stepped on in the dark. We did well to find matching socks, let alone all matching outfits. If we had cookies they were most likely store bought. And the only flowers on the table, might be the occasional bouquet my loving husband would bring home to me. My perfect homeschool world was beginning to crash down on me. Notice I said, MY perfect homeschool world. The Lord was showing me that my plans were not necessarily His plans.
QUOTING QUIVERFULL is a regular feature of NLQ – we present the actual words of noted Quiverfull leaders, influential bloggers and cultural enforcers and ask our readers: What do you think? Agree? Disagree? This is the place to state your opinion. Please, let's keep it respectful – but at the same time, we encourage readers to examine the ideas of Quiverfull and Spiritual Abuse honestly and thoughtfully.
If this is your first time visiting NLQ please read our Welcome page and our Comment Policy!
Comments open below
NLQ Recommended Reading …