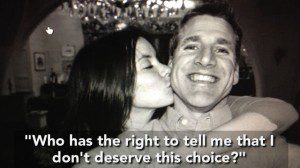 by Nancy Campbell of Above Rubies – Do You Let Your Children Do Whatever They Want?
Here's Nancy's answers to the critics that told her she was wrong to want Brittany Maynard to live and suffer till the bitter end. There may be a part three depending if Nancy posts again on this topic.
But I don't understand how assisted suicide laws will steal peoples free wills as Nancy says in the last paragraph of this. Is she trying to say to say that assisted suicide laws will let the government euthanize you whenever you contract a fatal illness? If so then is she also against the residents of Death Rows nationwide being executed? Where does her line for 'Choose Life' end? Would her view be different if instead of Brittany Maynard it was a man making this decision?
Apart from the comment of "Don't judge" (which I will write about later), another comment that came up in my post CHOOSE LIFE is that God gave everyone a free will and therefore they can do whatever they want." True. God has given us a free will. We are not robots. But that doesn't mean that we never give advice or encourage people to do the right thing. It is over to the person what they do, but we have a responsibility to tell them the truth.

Dear mothers, do you let your children do whatever they feel they would like to do? When your little children are running near a high cliff, your automatic reaction is to urgently call them to come away from that dangerous place. You warn your little ones to not touch the hot stove or to not play with sharp knives, etc. We constantly teach and warn to protect our children and show them the right way to live. In the same way as God's children, we teach and warn to protect one another.

God's Word, from beginning to end, is filled with showing us the way we are to live and warning us against the way that brings destruction. Although He gives us a free will, He longs for us to listen and obey Him for His ways lead to blessing and life. Read Deuteronomy 28.

God sent His only son from the glory of heaven to become a man, die, and shed His precious blood to save us from our sins and give us eternal life. Although we can choose Christ or reject Him because of our free will, He pleads with us to receive His salvation.

Ezekiel 3:18, 19 says, "When I say unto the wicked, Thou shalt surely die; and thou givest him no warning, nor speakest to warn the wicked from his wicked way, to save his life; the same wicked man shall die in his iniquity; but his blood will I require at thine hand Yet if thou warn the wicked, and he turn not from his wickedness, nor from his wicked way, he shall die in his iniquity; but thou hast delivered thy soul." The blood of others can be on our hands. God pleaded with the whole nation to CHOOSE LIFE rather than death (Deuteronomy 30:15-20).

We are our "brother's keeper" (Genesis 4:9). We are to "save others by snatching them out of the fire" (Jude 1:23). We are responsible for one another. To warn or save people from a wrong decision or destruction is far greater love than saying, "Please yourself. You have your own free will."

One person commented, "How would you like it if someone told you what you can and cannot do with your body?" It would be my decision what I do, but I would welcome all the advice I could get. I would be seeking and researching for wisdom and advice, not rejecting it.

And I will certainly be standing against "death with dignity" becoming law in every state. This would eventually take away people's free will. I don't want to come under a government that tells me that it is time to end my life when they think I am too old or whatever. I pray against the situation that was happening in Nehemiah's time where those who ruled over them had "dominion over our bodies . . . at their pleasure, and we are in great distress" (Nehemiah 9:37).
QUOTING QUIVERFULL is a regular feature of NLQ – we present the actual words of noted Quiverfull leaders and ask our readers: What do you think? Agree? Disagree? This is the place to state your opinion. Please, let's keep it respectful – but at the same time, we encourage readers to examine the ideas of Quiverfull and Spiritual Abuse honestly and thoughtfully
If this is your first time visiting NLQ please read our Welcome page and our Comment Policy!
Comments open below
NLQ Recommended Reading …