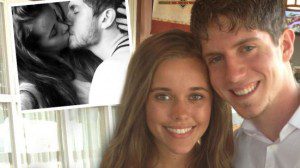 ETA: Looks like the blog that Radar Online and others took all these 'quotes' from, including quotes from anonymous comments, might be a parody blog. It's all from My Life As A Stay At Home Wife and Mom. So even as some of the media outlets are promoting this as if it were a legitimate story it sounds like there is a strong possibility it was an invented tale. Read with a giant boulder of salt.
That skipped kiss is driving some rather strange rumors in the gossip world. All of the rumors are coming from guests of the Duggars at the wedding.
The first one is that the Duggar parents didn't know about Jessa and Ben skipping the kiss at the end of the wedding and it made for a very awkward moment in which Jim Bob was overheard asking TLC personnel at the wedding to edit it to make it look like it had been planned.
If this is what happen then it's much more understandable that Jim Bob and Michelle would kiss instead of the kids.
From Radar Online – Jim Bob Asked Producers to Edit Storyline
Though the parents of the bride, Christian fundamentalists Michelle and Jim Bob, reportedly kissed before the celebrants instead, a guest revealed that the pair was "absolutely stunned" by their daughter, 21, and 19-year-old husband's unusual move.

"Michelle was shaking her head," Ashleigh, who pens Christian blog "My Life As A Stay At Home Wife And Mom," wrote in a November 3 post while recapping the nuptials. "My husband started to crack up, and I had to elbow him in the ribs. It was quite funny though. I wish you could have seen the looks on their faces."

"Afterwards, I heard Jim Bob and someone from TLC talking about altering the storyline to make it look like Jim Bob and Michelle were in on it the whole time," Ashleigh claims. "It was a surprise to most of us that the children wished to be alone…However, it seemed to be most of all a shock to the bride's parents."
The second story is pretty out there, but I suppose it's possible. Some of the wedding guests are alleging that Jessa and Ben consummated their marriage in a little room right after the ceremony. Seems like quite a leap to go from not wanting to share your first kiss with your wedding guests to boffing mere feet away from those same guests.
From Radar Online – Duggar Sex Scandal!
Wedding guest Mary B. claimed outrageous rumors spread among shocked guests at the reception that Jessa, 21, and Ben, 19, were caught in an act of "lust" when her free-spirited sister Jinger, 20, accidently opened the doorto the couple's "kiss" room in the Arkansas church.

"Multiple people were discussing that when Jinger opened the door to get Jess for the reception, she immediately closed the door with a look of shock on her face," Mary alleged on Christian fundamentalist blog "My Life As A Stay At Home Wife And Mom." "A big group of the girls were waiting outside the room to walk with her out…and my own daughters saw as well."

"I am not sure why they would not wait for the evening to pray and then consummate God's marriage," Mary continued. "The Lord has blessed them and brought them together. To hear so many people discussing what they inadvertently walked into was heartbreaking and troubling….I believe Jessa and Ben are in deep lust with each other."
No idea if either of these stories are true. Your guess is as good as mine. Notice that the same source is quoted in both pieces but called Ashleigh in the first and Mary in the second. I wonder if someone is having fun at the expense of Radar Online. Wonder how much they paid the blog owner for those tidbits?
Since this is a Duggar-related post if you are a first time visitor who is a Duggar-supporter please read and abide by our special Duggar Comment Policy.
If this is your first time visiting NLQ please read our Welcome page and our Comment Policy!
Comments open below
NLQ Recommended Reading …