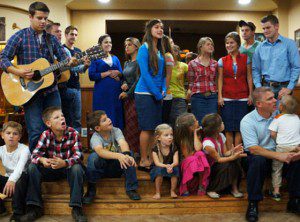 In the middle of the controversy over the many homophobic actions/statements by TLC's Duggar Family it was announced that Duggar family friends, the Bates family, is getting another reality show. They were last seen on TLC show, "The United Bates of America" and are now moving to UP network 'Br1n9ing Up Bates' according to E! Online – Move Over, Duggars! Meet the Super-Conservative Bates Family! – Including Their 19 Kids.
The gauntlet has been thrown in the big families on television sweepstakes. Of course with all the outrage and tons of signatures on the  petition to remove the Duggar family from television it could be that the Bates will be the only Quiverfull family on television in the near future.
Interesting also to note how much the Bates family has eased up on how they make the girls dress. They'd modernized as they've been exposed to the real world, just like the Duggar girls have. When the Bates first appeared on the Duggar show the girls wore cotton calico dresses with pinafores straight out of 'Little House on the Prairie'. The photos have even been scrubbed from Google, I guess they must have taken a lot of abuse over the prairie dresses.
You can sign the petition at 'End LGBTQ fear mongering by the Duggars' at Change.Org
Since this is a Duggar posting, it means that Duggar fans coming here will see this six months to 2 years out of date to rant and flounce about angrily in the comments. Before all that flouncing commences please read our Duggar Fan Comment Policy first!
If this is your first time visiting NLQ please read our Welcome page and our Comment Policy!
Comments open below
NLQ Recommended Reading …