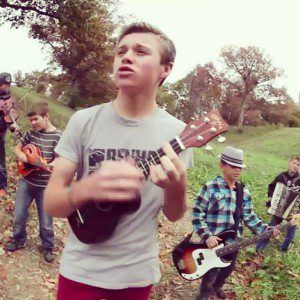 Your stupid Duggar-related news of the week: more than just a faux sex scandal, Michelle & Jim Bob aping their newly wed daughters kiss or scripture parrotting in response to rumors – it's the largely left as loose ends boys from the Duggar and Bates clan lip synching/air accordioning to the Lawson Bates song "Happiness is the Lord" and it's every bit as 'good' as you might imagine it to be. Sort of a fundamentalist version of a teenaged girl singing into a hair brush microphone along with the radio, except they aren't actually singing or playing any instruments.
Leads me to wonder what exactly will happen to these kids when no one is interested in their antics and their television show "19 Kids & Counting" is long gone.
The video stars one of the Duggar boys in some startlingly modern skinny jeans in red. He has to be defrauding someone out there in those pants.
E!Online had this to say about the video:
"Happiness is to know the savior/ Living a life within his favor/ Having a change in my behavior/ Happiness is the Lord," the Duggar boy lip-synchs. He then goes into a weird yodel. In fact, most of the video is basically said male Duggar making a pained facial expression while pretending to yodel along with Bates' track.
Sad thing is that E! doesn't seem to know the difference between a ukulele and a guitar, plus the Duggar boys have started their own You Tube channel Duggar Studios. They do know you can't really claim you did an original music video if you did not actually record the music?
But I love the bass players hat and attitude.
See for yourself.
https://www.youtube.com/watch?v=-Mqiw_3tH8s
Since this is a Duggar-related post if you are a first time visitor who is a Duggar-supporter please read and abide by our special Duggar Comment Policy.
If this is your first time visiting NLQ please read our Welcome page and our Comment Policy!
Comments open below
NLQ Recommended Reading …