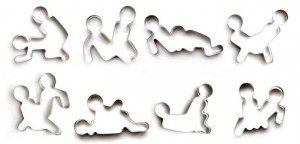 Paul Rudnick over at the New Yorker wrote a very funny piece about if the Duggar's wrote a sex manual what it would look like. Especially in light of the fact that no hand holding is allowed in courtship, and side hugs only.
One of the funnier bits?
THE FAMILY ORGY

All family members must assemble in a great room or back yard. Each member is handed a Magic Marker and a square of oaktag, and asked to write down an activity that leads them to profound sensual arousal. On the count of three, everyone holds up their statements, revealing such options as "Vacuuming Underneath Large Pieces of Furniture," "Refinishing a Tag-Sale Find," and "Coaching Softball at the Nursing Home." If anyone's oaktag reads "Picturing My Girlfriend Wearing Kneesocks" or "Wondering What It Would Be Like If We Had HBO," then that family member will have a pentagram drawn on his or her forehead, and will receive only a single Pillsbury crescent roll at dinner.
Read the entire article at The New Yorker
…and in very dumb Duggar news comes word of Jill Duggar Dillard unfollowing Jessa Duggar Seewald on Twitter and then Jessa unfollowed Jill according to In Touch Magazine.  Going to make for some super awkward moments on the family compound if this is true. Didn't that Jesus dude say something about forgiving 7 times 70s?
Since this is a Duggar posting, it means that Duggar fans coming here will see this six months to 2 years out of date to rant and flounce about angrily in the comments. Before all that flouncing commences please read our Duggar Fan Comment Policy first!
If this is your first time visiting NLQ please read our Welcome page and our Comment Policy!
Comments open below
NLQ Recommended Reading …