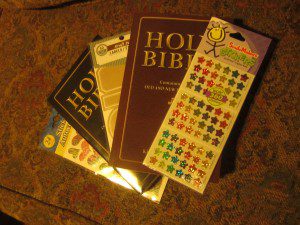 by Suzanne Titkemeyer
As the coverage of the hate speech being babbled by pastor Steven L. Anderson comes gushing forth like so much sewage I have to ask myself : "What is the best way to respond to his hate? What form should a protest take?"
There have already been boots on the ground protests in Tempe in front of the strip mall holding his church, Faithful Word Baptist Church by people from all walks of life and faiths. What was Anderson's response? He sat around watching them while he ate yogurt before he spoke to the crowd.
 "I'm not ashamed of what I believe, I'll preach it from the house tops. And anybody who wants to read it can go to the Dollar Tree and pick up a Bible."
Obviously hating on Mr. Anderson isn't going to work, the only things that might possibly get through his head are the words of his beloved Bible and people responding in love. Taking Mr. Anderson's own advice I went down to my local Dollar Tree and picked up a few King James Bibles. I have stickers, puffy paint, etc, to decorate the front cover in a friendly fashion and a yellow highlighter. I'm going to be highlighting many of the words of Jesus and others that call for love, starting with 1 Corinthians 13:4-8 'Love is patient, love is kind'. I'm also going to make a small donation in his name to a charity that focuses on helping gay youth as well as write a card to stick in the Bible explaining why I'm sending him this Bible. This is a protest I can do from my home near the nation's capital that does not involve plane fare and a hotel room.
I'm asking anyone at NLQ or anywhere who feels the need to, using that old Christianese phrase, 'Love Bomb' Pastor Steven L. Anderson. Let him know what you think!
Send your decorated Dollar Tree Bibles to him at:
Pastor Steven L. Anderson
C/O Faithful Word Baptist Church
2707 W. Southern Ave. Suite 105
Tempe, AZ 85282
Or if you prefer to 'Love Bomb' the guy that he recently commissioned who is saying the same and worse things about homosexuality at:
Pastor Donnie Romero
C/O Stedfast Baptist Church
2301 True Ave.
Fort Worth, TX 76114
Isn't Scripture supposed to be sharper than a double edged sword to these guys?
If this is your first time visiting NLQ please read our Welcome page and our Comment Policy!
Comments open below
NLQ Recommended Reading …