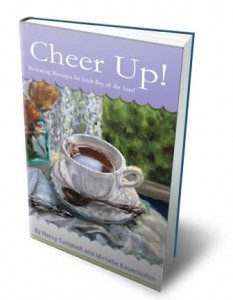 From Nancy Campbell's site Above Rubies
Remember some years back when Nancy was pushing adoptions from Africa? She adopted a pile of children, one of her daughters adopted a pile of daughters all the while Nancy was trying to get everyone to go to Africa and adopt. Remember how suddenly all mention of her adopted African children stopped and she said nothing more about adoption? Nothing was known about what had happened until Kathryn Joyce's book on Evangelicals and international adoptions – The Child Catchers: Rescue, Trafficking and the New Gospel of Adoption and a few articles came out telling of the failed Campbell adoptions and her African children sent away.
Nancy Campbell still has a link on her website labeled "Adoption Info" but it leads nowhere, just to a page with different books for sale, like this one "Cheer Up." Curiouser and curiouser. Excerpt from her "Cheer Up" book below. Guess after abandoning all those adopted kids you do need some cheering up.
Wide as the Ocean

When Eve woke up to life, she was in her garden home. God had the home ready for her. This was to be her life. This is where she would bring life into the world and raise children to influence the world. This is where she would work and find fulfillment in all the gifts God had given her. It was not a place of restriction, but joy, freedom, and productivity. And this is His plan for you, dear mother. This is your life, too. 

You are a "keeper at home" (Titus 2:5). Oops! That's not in the Bible, is it? Yes, it's still there, unless you cut it out. But, it is not restricting! Its vastness is as wide as the ocean and as high as the stars. 

The home is a birthing center, a mothering/nurturing center, a training and education center, a praise and worship center, a prayer center, an eating center, a cultural development center, a social center, a hospitality center, a counseling center, a health center, an industry center, a garden center, and a convalescent center! And this is just the beginning. Nancy
QUOTING QUIVERFULL is a regular feature of NLQ – we present the actual words of noted Quiverfull leaders, influential bloggers and cultural enforcers and ask our readers: What do you think? Agree? Disagree? This is the place to state your opinion. Please, let's keep it respectful – but at the same time, we encourage readers to examine the ideas of Quiverfull and Spiritual Abuse honestly and thoughtfully.
If this is your first time visiting NLQ please read our Welcome page and our Comment Policy!
Comments open below
NLQ Recommended Reading …