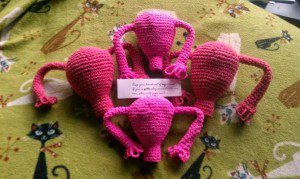 by Nancy Campbell from Above Rubies – The Power of the Womb continued..
Another chapter in Nancy's self-appointed role in Christian Quiverfull cultural enforcer. Same refrain, same verse, different day.
We read another Messianic prophecy that speaks of the womb in Isaiah 49:5: "And now, saith the Lord that formed me from the womb to be his servant, to bring Jacob again to him."

THE WOMB IS A FORMING PLACE
How amazing to think that God formed His only Son in the womb of a woman, the same way that every child comes into the world. What high honor God places upon the womb. He could have brought His Son into the world in any manner of ways, but He chose the womb. He came down to our humanity (Isaiah 44:2, 24).

THE WOMB IS A CALLING PLACE
It is from the womb that God called His son to be His servant and it is from the womb that God calls each child He creates in His image. Every new creation is not conceived and formed for nothingness, but for a purpose and destiny. They are called from the womb to serve–to serve God in the particular way His has planned from the beginning of time. If Jesus Christ Himself was called to serve, rather than being served, how much more should we embrace a life of serving? And also teach our children that they are born to serve.

THE WOMB IS A PROPHETIC PLACE
The angel spoke the prophetic word about Jesus: "And, behold, thou shalt conceive IN THY WOMB, and bring forth a son, and shalt call his name JESUS"(Luke 1:31). God knows from the womb His plan for each child.

THE WOMB IS A PLACE OF DESTINY
Jeremiah 1:5 says, "Before I formed thee in the belly I knew thee; and before thou camest out of the womb I sanctified thee, and I ordained thee a prophet to the nations." Here we read of four things about Jeremiah while he was in the womb.

1) He formed him.
2) He knew him (in fact, even before He formed him). How can someone abort a life whom God KNOWS and is forming and fashioning in the womb?
3 He sanctified him (the word is "qadash" and means "to be set apart as a holy vessel, purified, dedicated, consecrated." God sets us apart in the womb for the purpose of living a holy life. He creates us for holiness and to be created more and more into His image, not for uncleanness and sin.
4) He appointed his destiny as a prophet to the nations. God appoints the destiny of each child in the womb (although sadly, many may not walk in that destiny). Psalm 139:16 (HCSB) says, "Your eyes saw me when I was formless; all my days were written in Your book and PLANNED before a single one of them began."

The womb is such an amazing and powerful place–a God-filled, God-working, God-fashioning, God-calling, AND God-ordaining.

Embrace your womb. Give thanks to God for your womb. Protect your womb.
QUOTING QUIVERFULL is a regular feature of NLQ – we present the actual words of noted Quiverfull leaders, influential bloggers and cultural enforcers and ask our readers: What do you think? Agree? Disagree? This is the place to state your opinion. Please, let's keep it respectful – but at the same time, we encourage readers to examine the ideas of Quiverfull and Spiritual Abuse honestly and thoughtfully.
If this is your first time visiting NLQ please read our Welcome page and our Comment Policy!
Comments open below
NLQ Recommended Reading …