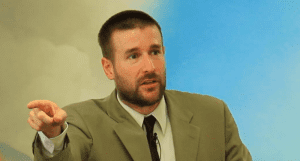 by Steven L. Anderson from his blog – Where Pastors Stand on the AIDS Sermon
He tries to explain himself and back what he's saying with the names of similar thinking buddy pals. Makes as much sense as you think it might. Keep those Bibles coming!
Doubling down on hate speech and ignorance is so unattractive and counter to anything that ever came out of the mouth of Jesus! He sounds like a member of the Taliban.
Two weeks ago, I preached a sermon entitled "AIDS: the Judgement of God." In the sermon, I proved from the Bible that God often sends pestilence (disease) as a punishment on people who live a wicked life. I also used statistics from aids.gov, cdc.gov, and the International Journal of Epidemiology to prove that homosexuals are the ones responsible for spreading HIV at a rapid rate. This is due to the reality that homosexuals frequently have anonymous intercourse with complete strangers.

A few of the statements I made in this sermon were picked up by the media. Here are the two main issues the liberal media took exception with:

1. That homosexuals should be executed as criminals according to Leviticus 20:13
2. That no homosexuals will ever be allowed at Faithful Word Baptist Church as long as I am pastor

Several pastors have stood with me in my stand on the word of God against the filth and perversion of our day. Several others have contacted me asking to be removed from our church's directory of soul-winning, KJV-only, independent Baptist churches because "they don't want to be associated with this controversy." Are they saying homosexuality should be legal? It is currently against the law in 80 countries, and it was against the law in many places in America until 2003, but apparently these "old-fashioned" Baptists are up to the minute with their doctrine! Do they allow homosexuals in their churches? If so, guard your kids when visiting these churches!
Emphasis mine. Newsflash, Mr. Anderson! There are not roving bands of gay people trying to molest anyone's children. Nice hate speech there. Plus I feel pretty sure that there are at least a few closeted self-loathing homosexuals already attending Faithful Word Baptist Church that he knows nothing about.
QUOTING QUIVERFULL is a regular feature of NLQ – we present the actual words of noted Quiverfull leaders, influential bloggers and cultural enforcers and ask our readers: What do you think? Agree? Disagree? This is the place to state your opinion. Please, let's keep it respectful – but at the same time, we encourage readers to examine the ideas of Quiverfull and Spiritual Abuse honestly and thoughtfully.
If this is your first time visiting NLQ please read our Welcome page and our Comment Policy!
Comments open below
NLQ Recommended Reading …