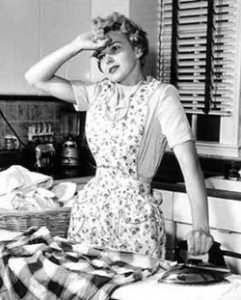 by Ken Alexander (taking over his wife Lori's blog) from Always Learning – Wimpy Husbands With Rebellious Wives
This poor, poor male just does not understand why a wife with a zillion children to homeschool might not be able to fulfill all of her responsibilities in a timely fashion and is labeling it 'rebellion'? Reads like male Christian woman-bashing at it's finest.
Herein lies one of the biggest problems in many Christian marriages. Many wives will go to their Bible studies and "share" about how bad their husbands are and how difficult their relationship, and other wives will sympathize with them, give them unbiblical counsel, and agree with them that their husbands are not loving them right. The group wants to vote to decide if the husband should let his wife have drawers in the kid's closet instead of baskets. After all, who wants the socks and the underwear to be mixed up! The wife goes home convinced she is married to a difficult or unloving man, never once being coached that God already has already given her the answers, and it is not found in the opinion of her Christian friends as to what is right or wrong on the small issues of life, but in the exact truth of God's Word.

I have personally heard from far too many Christian husbands how frustrated they are with a wife who can't discipline herself enough to get some of the basics of the home, family and marriage completed in any normal way, yet the wife wants nothing to do with their husband's attempts at correcting a bad situation. The husband can beg a wife to please try to have the house picked up and dishes done by the time he gets home, yet she is just far too busy to be able to get these basics of life completed. In her mind, he just does not understand and now she has her girlfriends agreeing with her, so he must be a jerk. After all, how can ten women with half the facts not come up with the right answers?

If he questions her lack of discipline, her inability to get to the gym, to have a home cooked meal on the table every evening, or have the laundry done once a week, she calls him not understanding or unloving. And when the claws come out and tears start, the husband is put back into his corner as the "unloving jerk who is way too picky and demanding!"
QUOTING QUIVERFULL is a regular feature of NLQ – we present the actual words of noted Quiverfull leaders, influential bloggers and cultural enforcers and ask our readers: What do you think? Agree? Disagree? This is the place to state your opinion. Please, let's keep it respectful – but at the same time, we encourage readers to examine the ideas of Quiverfull and Spiritual Abuse honestly and thoughtfully.
If this is your first time visiting NLQ please read our Welcome page and our Comment Policy!
Comments open below
NLQ Recommended Reading …