by Suzanne Titkemeyer – NLQ Admin
Happy New Years! Here's hoping that the year 2015 brings hope, healing, prosperity and peace into your lives.
Here are NLQ we're going to be making some important changes here in the new year. We're doing a little housekeeping.
We're returning to a focus towards healing for those adults that walk away from high demand cult-like spiritually abusive organizations and churches. When NLQ was first started by Vyckie Garrison back in 2008 the focus was mothers leaving the Quiverfull movement. Over time some of that focus shifted to the young adult population who'd been raised in the Quiverfull movement and since left, leaving behind parents still stuck in the movement. There's nothing wrong with that, but it's not really the main focus of NLQ. In the last two or three years some excellent groups supporting those young adults and former homeschooled children have sprung up, like Homeschoolers Anonymous and HARO, fulfilling the needs of those young adults much better than NLQ could.
2015 marks a year in which we will focus much less on every bit of media involving Quiverfull's most famous practioners, TLC's '19 Kids and Counting' Duggar family. Except for major happenings involving the Duggars there were will far fewer articles at NLQ about the Duggars. A sort of Duggar moratorium, if you will. The sooner all media ignores the doings of the Duggars, the more quickly they will fade from public consciousness.
You'll see more articles on healing from spiritual abuse this year and new authors.
We're shifting back to our old graphics in order to simplify things and to make the daily administration duties a bit quicker. One of the things that took the longest each day was searching for the perfect image to use with each post. Each author will either be represented by their own photo or a graphic made from an image that shares some style element with their blog. Each type of feature, Quoting Quiverfull, etc, will also have an image.
Not only will this allow more content to be posted quickly on NLQ it will stop one of the biggest annoyances NLQ must deal with at least once a week. Others emailing the admin to claim that the photos I took at two different events featuring the Duggar family are their photos. The most contacted about photo NLQ has used features myself standing behind Jana, Jessa, and Jill and resides on my camera's card memory that was taken by my camera by a member of my own family. Two weeks ago I received three different claims that particular photo was the property of someone else on the same day, and another one claiming a photo I used at NLQ I took at a Mennonite store of a friend of mine was their photo. That was what my snarky caption I've since removed that was on the Duggar photo attached to Vyckie's '12 Days of Duggar Christmas' was about.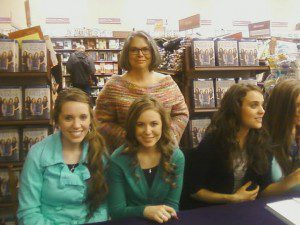 Going with original graphics will cut down on the time dealing with the random emails claiming those photos belong to someone else and comply with the rules for internet copyright on images. Safer and faster for everyone.
This year is all about stream lining some of the processes to provide better content that is more relevant to the issues at hand of recovery from spiritual abuse.
Expect to see changes on some of the pages, such as information on how to join the Spiritual Abuse Survivor Blogs Network and some pages with information on the site. These are going to be overhauled very shortly.
For NLQ Authors:
If you wish to have one of your articles featured on the Time magazine website as part of Patheos then you will need to email that to me at Suzanne.(dontspamme)Calulu@gmail.(pleasedonotpameme)com. Your piece cannot have been published at your blog yet, should be on a timely topic dealing with our subjects of interest at NLQ and should be around 500 to 600 words in length. The way it works is that we publish it first at NLQ and after two or three days then you republish on your blog or site.
If this is your first time visiting NLQ please read our Welcome page and our Comment Policy!
Comments open below
NLQ Recommended Reading …