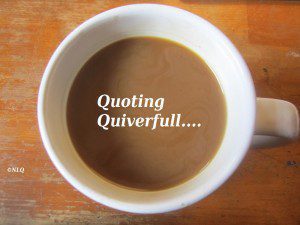 by Nancy Campbell from Above Rubies – How To Focus
Editor's note: Here Nancy tries to make everyone feel guilty about having an interests outside of raising their children or serving their man in the guise of serving God.
Yesterday's post was about how easy it is to be distracted. In order to counteract this we must get into the habit of becoming disciplined and focused. How can we FOCUS? I'll share an acrostic with you, and as I do, I'll point three fingers back at me!

F FOLLOW the Lord closely. Don't lag behind where you are too far away to hear His voice. When distractions get in between you and the Lord, be ruthless and shove them out of the way. What are the things that you have allowed to come in that have dimmed His voice. Are you a Facebook time-waster? Blogaholic? Movie-addicted? Whatever . . . Take stock and discipline your time. Stipulate what time you allow yourself to use your electronics. Read Numbers 14:24; Psalm 63:8; and Philippians 3:12.

O OPEN your heart to the Holy Spirit instead of all the media and technology all around you (James 4:8). Open your heart to God's Word, which means you have to discipline yourself to read it.

C CALL upon the Lord to help you (Romans 10:13). You can't do it in your own strength.

U UNDERSTAND your calling (Ephesians 5:17). If God has blessed you with children, motherhood is your highest calling. The devil will tempt you to get involved with so many extra "good" things, but they will weaken your power and influence as a mother.

S SIMPLIFY your life. The more stuff you have the more it fills up your life, and the more work it takes to look after it all. Get rid of everything you don't need (more fingers pointing back at me!). My daughter, Evangeline, loves to say: "I'm not wasting my time running around after stuff; I'm using my time for God and my children." But it's not only material stuff we have to throw out. It's all the time-wasting hours we spend on so many other things. Knock off some things you are involved in. Go out less. Focus on the important. Eliminate the less important. Discipline your life. Read Proverbs 25:28; 1 Corinthians 9:24-27; Philippians 3:13, 14; and Titus 2:12.
QUOTING QUIVERFULL is a regular feature of NLQ – we present the actual words of noted Quiverfull leaders, influential bloggers and cultural enforcers and ask our readers: What do you think? Agree? Disagree? This is the place to state your opinion. Please, let's keep it respectful – but at the same time, we encourage readers to examine the ideas of Quiverfull and Spiritual Abuse honestly and thoughtfully.
If this is your first time visiting NLQ please read our Welcome page and our Comment Policy!
Comments open below
NLQ Recommended Reading …