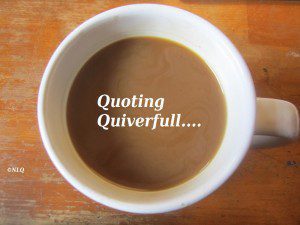 by Michael Pearl from No Greater Joy – Abusive Husband
Editor's note: Today Michael adds his thoughts on abuse and leaving. Not any better than his wife's unfortunately. Trigger warning: This might make you sick to your stomach. Don't say I didn't warn you.  This type of advice is harmful to implement in an abusive marriage and is likely to encourage additional abuse.
If you or your children have been hit (other than the child being spanked) so as to leave discernible marks two hours later,  and you genuinely fear he will repeat his battering, you can take legal steps without divorcing your husband. In a moment when he is not angry, calmly inform him that the next time he physically assaults you or the kids, you are going to call the law and have him arrested. You must first resolve in your heart that you are willing to prosecute him and see him go to jail. I visit prisons every week. It is a great place to mull over consequences of one's deeds. And I have never met a prisoner that turned down a visit from anyone. Think about it, lady; it is a great time for writing love letters and sharing a three minute romantic phone call once a week. Guys who get out of prison run straight home to their ladies and treat them wonderfully – for awhile anyway.

If your abusing husband fully understands that you have the power of the law behind you, he will learn to keep his hands in his pockets. I am not suggesting you do this to be vindictive, or to get even with him. It must be done in humility and love. If your husband knows that you are the weaker vessel, desperately seeking your survival and that of the kids, and that you are not trying to punish him, but that you are going to stand by him and continue to love him, that you are going to wait for him to get out of prison, and then try to start over again, it may move his heart to fear, if not to repentance. You say, he cannot help himself. Does he help himself when his peers – men of his own size – make him angry? Does he fly out of control and start hitting his boss or his employees? No? Then he has self control when he must. The law can make it a must, which will allow you to continue with him and demonstrate your womanhood and win him to yourself and then to your God.

But if your husband has sexually molested the children, you should approach him with it. If he is truly repentant (not just exposed)  and willing to seek counselling, you may feel comfortable giving him an opportunity to prove himself, as long as you know that the children are safe. If there is any thought that they aren't safe, or if he is not repentant and willing to seek help, then go to the law and have him arrested. Stick by him but testify against him in court. Have him do about 10 to 20 years, and by the time he gets out, you will have raised the kids, and you can be waiting for him with open arms of forgiveness and restitution. Will this glorify God? Forever. You ask, "What if he doesn't repent even then?" Then you will be rewarded in heaven equal to the martyrs, and God will have something to rub in the Devil's face. God hates divorce – always, forever, regardless, without exception.
If you or your children are being abused please seek help! Call your local law enforcement or the National Domestic Violence Hotline for help – 1.800.799.7233 Remaining in a pressure cooker type 

situation with an abuser could take your life, or

 the life of your precious children. Please ignore people like the Pearls and get real help!
QUOTING QUIVERFULL is a regular feature of NLQ – we present the actual words of noted Quiverfull leaders, influential bloggers and cultural enforcers and ask our readers: What do you think? Agree? Disagree? This is the place to state your opinion. Please, let's keep it respectful – but at the same time, we encourage readers to examine the ideas of Quiverfull and Spiritual Abuse honestly and thoughtfully.
If this is your first time visiting NLQ please read our Welcome page and our Comment Policy!
Comments open below
NLQ Recommended Reading …