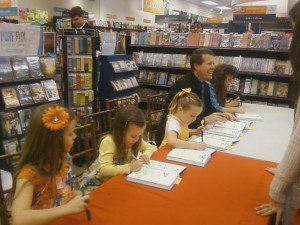 by Suzanne Titkemeyer – NLQ Admin
Duggar friends, the Bates family, had the television premiere of their new show "Bringing Up Bates" last night on the Up Network. Did anyone here happen to see it?
Haven't seen any numbers yet as to the number of viewers but have seen a review of the show that makes it seem like it's going to be a tough watch at best.
From Beliefnet by John W. Kennedy – The "Unbroken" power of forgiveness + TV review "Bringing Up Bates"
Review: I'm going to try and be fair here since, in all honesty, I'm not a big fan of the entire person and/or family-following reality genre. The reason being is that such shows tend to either end up seeming superficial or voyeuristic. While a single documentary or profile segment can be illuminating, the strains of a weekly series requires a variety of situations that can seem forced and/or exploitive and manipulative.

For instance, in the pilot episode we see Gil having a rather touching heart-to-heart talk with his father-to-be son Zach. In their conversation, Zach sees his own father with newfound understanding. Very nice — except, it seemed to me, a conversation better had in private (i.e. without TV cameras present). Likewise, Erin and her husband's Chad's reflections on their own recent miscarriage may indeed be helpful to another couple going through a similar emotional ordeal and that's certainly good. I admire their honesty and courage and don't mean this as personal criticism. I just can't help thinking that another format might have been more appropriate.
This part doesn't bode well for the Bates:

Without speculating on possibilities, there are all sorts of personal and serious issues real families deal with all the time without the added element of it all becoming fodder for a TV series. Perhaps I'm overthinking it all but I do think about such things.


Besides that, of course, the mere existence of the Duggar family (the subject of TLC's 19 Kids & Counting which begins its 10th season in February), kind of gives the whole show a been there/done that quality.
Seems likely this might just go the way of the other show on the Bates family, 'United Bates of America' – a small season run or two and then a disappearance from the air waves.
~~~~~~~~~
On another note: One of the New Year's resolutions made for NLQ this year was that we'll be featuring far less of TLC's Jim Bob and Michelle Duggar and family this year. The media coverage of the "19 Kids and Counting" family has gotten quite silly this year, between the speculations on Jana Duggar and Tim Tebow's possible courtship to a pile of other things. Makes one wonder if possibly Jim Bob Duggar is spending some of his sweet stack of reality television money on a publicist devoted to keeping the family name front and foremost in the celebrity news outlets. Every possible ridiculous thing about the Duggars has been chronicled in 2014, much more so than most other years.
Right now that same celeb media has suddenly discovered that Michelle Duggar has a sister who happens to be openly living her life as a lesbian. Which is really silly because this sister has been mentioned before. Remember Josh saying in an interview that even his gay aunt opposed gay marriage? Guess this has suddenly been seized upon like it's legitimate news because of Michelle's trans phobic robo calls and the petition to cancel the Duggar's show because of their public stance on homosexuality. Also big Duggar news is what they did for Christmas, sisterly forgiveness/togetherness during the holidays, the parents quadruple date the married couples, sister Joy-Anna pumps iron, Jessa is jealous of Jill's house, Jessa poses with a pillow over her tummy, ad nauseam.
We at NLQ will continue to cover Duggar doings that do have a substantive basis, such as the robo calls or the petition, but the acres of churned out minutiae that seem to be coming from a publicity machine are going to be mostly ignored here. I personally apologize for covering some of this junk in 2014. But please feel free to discuss anything Duggar-related in the comments here, even the things we'll be not posting on.
It really is amazing that every single day or two there are new articles coming out on someone in the Duggar family and some rather flimsy ideas and that each and every single online media outlet writes an article based on the original scanty information.
~~~~~~~~~
Since this is a Duggar posting, it means that Duggar fans coming here will see this six months to 2 years out of date to rant and flounce about angrily in the comments. Before all that flouncing commences please read our Duggar Fan Comment Policy first!
If this is your first time visiting NLQ please read our Welcome page and our Comment Policy!
Comments open below
NLQ Recommended Reading …