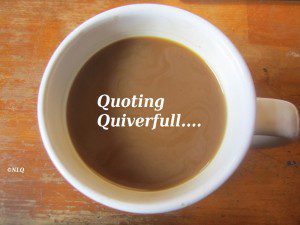 by Tamara Rajakariar from Mercantor Net and as quoted and reposted by Ladies Against Feminism – A real man vs Mr Grey
Editor's note: The ladies at LAF are still rattling on about the evils of the film 'Fifty Shades of Grey' and ignoring the Christian film response to the movie 'Old Fashioned' This isn't the only new link they've posted against 'Fifty Shades' since a few days ago. Why is this film so threatening to them beside the fact that there is absolutely no mentions of faith in it? It has a merciless dominating male in it, just like in the Christian Patriarchy Movement they all follow, who forces a woman to submit in every way to him. You'd think they might find the dominance/submission aspect right up their alley.
I wonder what type of marks they would have given this film had it depicted Mr. Grey immediately marrying the female character and then sexually dominating her in an attempt to immediately impregnate her?
There are lots of reasons to dislike 'Fifty Shades', such as the lack of sexual consent and the fact that it is poorly written, none of which LAF touch upon. Like many things in Fundy-Town it's all about the sex. The sex being the what they consider the wrong kind of sex, sex outside of marriage for pleasure, not to create righteous soldiers for God's Army. 
[Editor's Note: The author's conclusion that we should be grateful in apart for the film production of 50 Shades of Grey is in error. Smut doesn't produce wisdom. If we can see this for what it is, poison it is due solely conscience. That internal guide created by God we've long ignored in the small things. We think we crossed the line with 50SoG. We crossed the line and crossed conscience long ago, hardened our hearts and that is why it takes something as devastating as 50SoG to remind us who we are. If we can remember that is. ]

Dear E.L. James (author of Fifty Shades of Grey),

I have a bone to pick with you. Valentine's Day is a day to celebrate love – not to degrade and thoroughly undermine it. But through your books, and now with the film's release on February 14, that's exactly what you are doing. You are conveying to women that certain characteristics in a man are attractive when they are really not. You are telling women that your book has something to do with love, whereas I can hardly think of anything that's further away.

I have not polluted my mind with the books or movie, but I've educated myself enough about them to know that I should stay away. But I thought I'd help you out, just in case you have any future books in the works. Because from now on, I'm thinking that you should grab the attention of women across the world with something infinitely more impressive: the qualities of a real man. Why? Because a real man trumps Christian Grey any day – including Valentine's Day. Here's how:
Here's what they didn't quote that is worth examining:
So "consent"– it's kind of a big deal. It's the difference between a welcome action and an attack. Unlike Mr Grey, a gentleman is never going to make you do something you don't want to do. He won't force your consent to anything – sexual or not – through the use of manipulation, or get you into a state where you can't say no. For a real man, your needs come first.

E.L. James, I cannot tell you how much it saddens me that so many women across the world will be exposed to such garbage, especially on a day that commemorates genuine and self-giving love. I don't know if it's made worse by the fact that it is a woman who is spreading this glorification of a clearly abusive relationship, under the guise of female liberation. But perhaps I should be grateful that this poison is all the more evident for what it is in movie form than it was in book form. And I can only hope that women will have enough sense to take Mr Grey as the epitome of what NOT to look for in a man.
Have to believe that the reason they are ignoring 'Old Fashioned', a film marketed and positioned to be a Christian response to 'Fifty Shades.' Is it because it is like many "Christian Films", heavy handed, mediocre and sub standard? Here's what Brandon Ambrosino of Vox had to say about 'Old Fashioned' in Why are Christian movies so painfully bad?
But Old Fashioned's problem isn't that it's telling a religious story. The biggest problem here is it's desperately trying to invalidate a secular one.

The end result is that the Christian product seems like a knock-off, a cheap alternative.

It isn't problematic that Christians "borrow ideas" from Hollywood and put their own spin on them. Every film genre does this. But given the Christian doctrine of creation, it is certainly surprising that so many Christian filmmakers — and artists in general — would choose to mimic someone else's vision, rather than cultivate their own.

It's surprising because, in Christian theological terms, God is not the one who makes knock-offs. In the opening chapters of the Bible, God creates the universe, and he tells Adam and Eve to enjoy it all — except for that one tiny tree over there. It's Satan who comes along with a counterfeit offer: What did God really say? Did he really give you true freedom? He may have given you a garden, but I'll give you an apple. If you like that, you'll love this.
QUOTING QUIVERFULL is a regular feature of NLQ – we present the actual words of noted Quiverfull leaders and ask our readers: What do you think? Agree? Disagree? This is the place to state your opinion. Please, let's keep it respectful – but at the same time, we encourage readers to examine the ideas of Quiverfull and Spiritual Abuse honestly and thoughtfully.
If this is your first time visiting NLQ please read our Welcome page and our Comment Policy!
Comments open below
NLQ Recommended Reading …