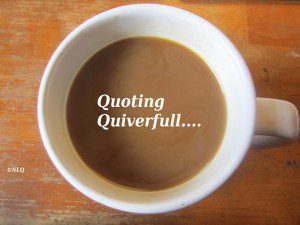 from Ladies Against Feminism and the seven quoted articles they tagged about sex, perversion and the movie '50 Shades of Grey'. 
Editor's note: Wow, seven articles about sexuality, pornography and what LAF considers perversion in just a couple of days? Sounds like someone has some sexuality issues they're working out. They don't even put up this many articles at once about abortion near Right To Life Sunday. For years at NLQ we've theorized that large parts of the patriarchy is obsessed with sex, as much sex as they can get, like the Pearl's honeymoon tale or Vaughn Ohlman's insistence you get married young to keep from committing sexual sin, but we've never examined the female psyche in regards to sex beyond 'don't do it before marriage' This is all so very telling that LAF is condemning '50 Shades' not because of the trampling of the ideas of sexual consent or other morally squishy things about the movie and series, but because it might be porn according to their definition. Here are the seven quotes and links they offered:
1. Tim Challies – 10 Articles on Pornography
Tomorrow is Valentine's Day, and, thanks to one surprising bestseller and its new film adaptation, the whole world is buzzing about pornography and deviant sexuality. 50 Shades has done everything it can to beat and brutalize an otherwise sweet occasion. The day of hearts and flowers has been turned into a day of whips and chains. It's abhorrent.

Sadly, pornography is one of those subjects I have written about many times over the years. I did not set out to write so many articles, and even a short book, on the subject. Yet as someone who has invested a lot of effort in discipling young adults, and who has at the same time been attempting to make sense of the digital explosion, it has been sadly inevitable.

Here are ten articles I've written on the subject of pornography and deviant sexuality.
2. Joe Carter: The Gospel Coalition – Rejecting The Industrialized Sex of '50 Shades Of Grey'
I was reminded of Berry's insight because of the release of the new film, 50 Shades of Grey, which epitomizes and promotes this view of industrialized sex. Too much has already been written about the stupidity and vulgarity of the novel, so I won't waste time rehashing why no Christian should engage with that pornography. Instead, just as Berry offers advice on how to recover the pleasures of eating from consumerism, I want to offer a few modest suggestions for how Christians can recover sex from industrialization.
3. John Piper: Desiring God – You Can Say No To Porn
Not all sexual desire is lust. God made sexual desire. It has its good place and it can, in fact, become an act of worship in the temple of marriage. But lust is sexual desire gone wrong. Here's my definition:

Lust is a sexual desire that dishonors its object and disregards God. Disregards the promises and the warnings of having or losing the beauties of Christ.
The lusted-after woman or man in your head, or on the screen, or on the street, is dishonored — not treated as a sacred, precious, eternal person made in the image of God, whose eternal destiny is always paramount, and whose holiness we either long for or ignore. And the only way this dishonor can be so daringly carried out is by disregarding God while we are in the sway of our lust — disregarding the promises and warnings of having or losing the beauties of Christ. So lust is a sexual desire that dishonors its object and disregards God. Ponder with me for a few minutes the natural and the spiritual role of self-control in relation to lust. .
4. John Jalsevac: The Life Site – Even the co-stars of the movie think 50 Shades of Grey is awful (and maybe even a bit like Hitler)
I kind of have to pity Jamie Dornan and Dakota Johnson, the co-stars of the forthcoming cinematic adaptation of E.L. James' best-selling book 50 Shades of Grey.

Unfortunately for the pair, once the initial excitement of receiving the casting call had abated, they still had to go through the process of actually playing Christian Grey and Anastasia Steele: i.e. two of the most vapid, one-dimensional and unsympathetic characters ever, drawn from a book that, when you actually read it, you discover is basically a plot-less, poorly-written, 500-page glorification of misogyny and domestic abuse, based around a bunch of weird and unpleasant sexual practices.

Which is a bit of a letdown. And which is probably why Johnson and Dornan have been so painfully ambivalent about the film during their recent press tour appearances. Actually, that's being way too kind. After all, what do you call it when one of the lead actors kind of, sort of appears to compare the 50 Shades phenomenon to…well…Hitler.
5. End Sexual Exploitation.Org – The Reality of a "Fifty Shades" Relationship
While thousands of women are fantasizing about the controlling and abusive Christian Grey from the book, there are many women dealing with the horrors of actually living with men like him
Truth has one shade and this is what it looks like. The mass media and throngs of women are swooning over the "love story" Fifty Shades of Grey. However, this cultural phenomenon's impact to society will only serve to romanticize sexual violence and excuse domestic abuse.
6. Marshall Segal: Desiring God – Fifty Shades of Nay: Sin Is A Needle, Not A Toy
Fifty Shades of Grey releases in major theaters this Friday, not surprisingly — and yet ironically — just a day before our annual celebration of love. The series of erotic novels exploring sexual domination and even violence (tragically) has sold over 100 million copies and has been translated into 52 languages. Yes, America has exported these scenes and this message in 52 languages to who knows how many countries.

Full disclosure: I have not read the books or seen the movie, and I will not. I've read about the story and have seen a trailer. I believe I've learned enough to write and warn my brothers and sisters in Christ (the lead male's name is "Christian" for crying out loud). In a society that downplays the evil of evil, and even glamorizes it, we need to be regularly reminded of the danger of sin. Like a child that discovers a needle on the street and thinks it's a toy, we can be dangerously naïve about what's happening in our American entertainment.
7. Jay Younts: Shepherd Press – Fifty Shades: A sexual assault on your daughter
Let's get one thing clear. The Fifty Shades movie opening this Valentine's Day weekend is an assault on young women and God's institution of marriage. Pleasure is found in pain, in yielding to the lusts of perverted men who whose desire is to dominate women. This is somehow packaged as the ultimate sexual / romantic adventure.

This marketing lie appears to be effective. All indications are that this 100 minute long movie will dominate the box-office, perhaps even setting records for a Valentine's Day weekend.

For years Hollywood's message has been:
Sex is about sensual experience, pain, and perversion.
Biblical love is outdated and dull.
Experience is ultimate.
Pornography is the best venue for learning about sex.

Make no mistake, this movie is about seducing and enslaving a generation of young women into the dark world of lust, sensuality, and domination.
Not one of those ranting about the '50 Shades of Grey' movie seems to realize that a) if they object so much to the movie they are free not to see it and b) the domination and demanding sex behavior of the main male character isn't much different than the behavior of many patriarchs in the CPM. Wasn't there also supposed to be a 'Good Christian' ™ movie titled 'Old Fashioned' supposed to be released the same day as a counterpoint to '50 Shades'?  Very odd all of this…
QUOTING QUIVERFULL is a regular feature of NLQ – we present the actual words of noted Quiverfull leaders and ask our readers: What do you think? Agree? Disagree? This is the place to state your opinion. Please, let's keep it respectful – but at the same time, we encourage readers to examine the ideas of Quiverfull and Spiritual Abuse honestly and thoughtfully.
If this is your first time visiting NLQ please read our Welcome page and our Comment Policy!
Comments open below
NLQ Recommended Reading …