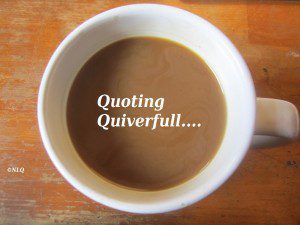 by JW from Thoughts, Opinions and Little Discoveries – Fundamentalism Gone Wrong
Editor's note: Posting this because the article goes on to discuss how NLQ found Vyckie Garrison hates God. Even though this type of legalism and Quiverfull goes on in most churches this Evangelical author seems to think it's limited to the Independent Fundamentalist Baptist and Fundamentalists in general. This is one of those fallacies in Christianity, that abuse is rare and the fault of the victim because they weren't practicing the 'right' type of Christianity. As usual the grammar, spelling and formatting go to the original author, I have not changed a thing.
In my reading of blogs and articles I have come across a vast majority of individuals who have become Atheists or just very liberal in their world view and much of it has been attributed to Christian Fundamentalism. I think the term should have a subheading of legalistic Christianity because of the things I have learned this arena became a system of do's and don'ts. In essence it is rules without the mixture of love but just law. This is Old Testament living. Even in the Old Testament they priests began to gently change the laws in order for their own religious and political power. It culminated with the Pharisees from the New Testament and many know how Jesus dealt with them and their attitude. When they made a convert that convert became twice the child of hell as they were before.

legalistic Christianity seems to live in ultra conservative circles and I think of Independent Fundamental Baptist churches and pentecostal holiness church in which women are not supposed to wear jeans. Men should not have long hair. Many times it is KJV only and in some cases women should not go to college?

Do you have a background like this? Did you grow up in this atmosphere? How did you deal with it?
I did not have this type of upbringing and I am fascinated by this whole thing and how these churches are carrying on a Pharisee tradition. That is turning out more anti God individuals then they are Christians.
QUOTING QUIVERFULL is a regular feature of NLQ – we present the actual words of noted Quiverfull leaders and ask our readers: What do you think? Agree? Disagree? This is the place to state your opinion. Please, let's keep it respectful – but at the same time, we encourage readers to examine the ideas of Quiverfull and Spiritual Abuse honestly and thoughtfully.
If this is your first time visiting NLQ please read our Welcome page and our Comment Policy!
Comments open below
NLQ Recommended Reading …