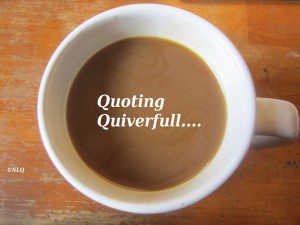 by Kelly Crawford from Generation Cedar and as quoted by Ladies Against Feminism – Why Your Children Annoy You & Homemaking is Boring
Editor's note: While we're just quoting the same small section that LAF is if you go to Kelly's blog and read what this dasterdly threat to home, hearth, children and commitment is you're going to laugh. Kelly is blaming The Internet for all the troubles at home. Yes, the same 'internet' that gave her a small measure of fame and provides money to her by the sales of her books and product. This is approaching Debi Pearl and Nancy Campbell level of 'do as I say, not as I do' shaming and blaming. Shame on her. The female cultural enforcers of Quiverfull are so good at trying to make their followers live in fear. 
I think often about that woman in the Bible, the woman hanging out in Proverbs 31, the model for a godly woman. She does many things, wears many hats.

But one thing she does well, one thing is her priority: her home, husband and children. Her other pursuits fall around that.
"She looks well to the ways of her home, she is not idle…" Prov. 31:27
Somewhere along the way, a few generations back, the priority of homes, children and husbands took a backseat to promised fulfillment. Women became lured by the sirens of career, accolades and accomplishment, and the daily, hard, sleeve-rolling work became more mundane and distasteful in light of the exciting, interesting activity available. Women became distracted from their families because, quite frankly, family work is lackluster.

That was disconcerting enough.

But something looms dangerously familiar, now, even in homes where for a time, women had returned as stout, home-builders.
QUOTING QUIVERFULL is a regular feature of NLQ – we present the actual words of noted Quiverfull leaders and ask our readers: What do you think? Agree? Disagree? This is the place to state your opinion. Please, let's keep it respectful – but at the same time, we encourage readers to examine the ideas of Quiverfull and Spiritual Abuse honestly and thoughtfully.
If this is your first time visiting NLQ please read our Welcome page and our Comment Policy!
Comments open below
NLQ Recommended Reading …