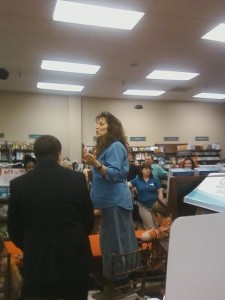 Yesterday while cruising the 'net I came upon this turn of Jim Bob Duggar's as a Rap-styled 'Hype Man' in a clip from a church fundraiser in Ohio that features Christian comedian Anita Renfroe. Renfroe is occasionally a commentator on "Good Morning America" In the clip below Renfroe raps about the woes of motherhood in a song titled "Mutha'hood" and has Jim Bob Duggar help her out as her 'hype man'. While Anita is no Lil' Wayne or even Toby Mac she does a credible job and Jim Bob is pretty comical as her sidekick.
Michelle Duggar has some very uncomfortable body language going on during this sequence.
What's interesting about all of this is that Renfroe got significant pushback from Duggar fans for this. Several sites have reported that fans were irate over Jim Bob's dancing and rapping. The question I have is how does all this square with the Duggar family's statements that they only listen to traditional church music?
Plus, why is it that the fans of "19 Kids & Counting" tend to get upset about the dumbest things. They are upset that Jim Bob tried a little dancing and rapping but not that Jana Duggar is a virtual family slave or that the Duggars do everything in their power to make sure that the transgendered and homosexual populations in Arkansas don't have the same basic rights as everyone else?
Other outrage this week:
Jill Duggar goes on vacation before birth
Josie Duggar pictured near unsecured gun
Other silly stories:
Joseph Duggar might be courting a Bates daughter – Both shows must need more ratings..
Is Jill Duggar Dillard in Labor?
Is Jessa Duggar Seewald Pregnant?
Since this is a Duggar posting, it means that Duggar fans coming here will see this six months to 2 years out of date to rant and flounce about angrily in the comments. Before all that flouncing commences please read our Duggar Fan Comment Policy first!
If this is your first time visiting NLQ please read our Welcome page and our Comment Policy!
Comments open below
NLQ Recommended Reading …