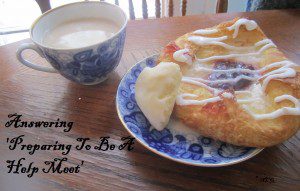 Our series of giving better answers to the questions asked at Debi Pearl's site message board for the book 'Preparing To Be A Help Meet'. Many young ladies ask questions on all sorts of different subjects brought up by the book. There was just one big problem, many of the answers stray into either the outright bad and emotionally unhealthy to dangerous. Yes, typical Debi Pearl borderline abusive. Here's what we're going to be doing here at NLQ. Every week, once or twice a week, I'll be posting up one of the questions from the message board and ask you, our readers, to answer that poor soul's question in a way that is logical, rational and the best possible solution, in other words 180 degree turn from Nancy and friends answers. Okay, on to today's question:
Topic: Being Careful

I am going overseas for a month to visit my Mr Steady boyfriend, who I've been keeping in contact with over the last months via email & Skype. He is the most caring, patient, honest guy I've met and I'm so grateful to the Lord for opening the doors for both of us to get to know each other. I've never had a boyfriend before so I'm not sure how it will go over when visiting but I'm not used to the feelings of being in love and I used to be very careful with giving my heart away or showing my feelings to guys that I was interested in at the time.

I am aware that temptations can come up and I don't want to fall into them. What advice do you have? (I have spoken to my Parents and friends and I am aware that I need to be in public places when together, to inform friends what we are doing & where & timeframe, etc… but I also realise that I need to keep my thoughts pure and in obedience to God's Word).

It is a very exciting time for me and I can't believe that it's happening to me now – so I don't want to be distant but just careful, if you know what I mean.

Thanks sooo much and God bless!
The answer given is to pray together quite a lot and focus all your conversations on the Lord. Really? Is that any type of answer to this question?
If this is your first time visiting NLQ please read our Welcome page and our Comment Policy!
Comments open below
NLQ Recommended Reading …