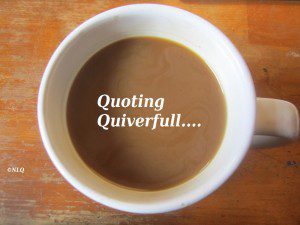 by Michael Pearl from No Greater Joy – I Need Her Counsel and Judgement
Editor's note: Ugh, he links praising your wife for her good judgement to having sex more often. It really is all about sex with Mr. Pearl. Plus in this last bit Michael Pearl claims he softened the hard edges of Debi's books! What softening? I would hate to see the first drafts if they were any harsher and condemning considering Debi does shaming and blaming all too well in her books.
If unfolding events prove her wrong, be kind and gentle, not gloating or mentioning what is obvious. On the other hand, if her counsel and judgment prove to be right, praise her for it and thank her for saving you from error. You will make a new woman out of her. She will get ten years younger and smile like a kid opening birthday presents. But I warn you, she will get addicted to being happy. She will want to have sex more often and will initiate contact. If you are not up to it, you might want to continue with your "know it all" attitude so she can maintain her coldness as she continues to be your unhappy critic.

When I write an article or book I submit it to my wife for editing. If she thinks something is not appropriate or could be said a different way, or that a point needs a little different slant, I discuss it with her until I see her point of view. There are times that she catches a skewed perspective or bad attitude coming through my writings. (For my reader I would like to soften that "bad attitude" thing, for it might lead you to a lower estimation of me, but today I will admit to it just to make a point. Consider it rhetorical.) I have come to trust her goodwill toward me and to accept the fact that she likes me even when I am bad—sort of like a mother. She doesn't expect me to be perfect. She does like to see me honest and open to her wisdom. I would be stupid not to take advantage of her sanctified perspective.

Think about it. One day, maybe soon, I am going to appear before the Judgment Seat of Christ to be rewarded or to lose reward according to the things done in this body, whether it be good or bad (2 Corinthians 5:10; 1 Corinthians 3:8; Matthew 10:42). At that day I am sure I will wish I could go back and have a do-over on many things. Right now, before I stand before Christ embarrassed, my wife is enabling me to have that do-over, to correct ignorance or insensitivity to the Holy Spirit. She is sanctified in some areas that I am not and can see things I cannot see. She is not just editing my writings; she is editing my life so that the end product is better than me. I was created to need her counsel and judgment.

In my defense, it works both ways. I edit her writings and her life as well. Like any woman, she can get her feathers up and claw the blood out of a timid soul that still needs a little understanding. You should have seen her book, Created to Be a Help Meet, before I softened the edges. She has an occasional blind spot. Because I trust her judgments and censorship, she trusts mine, and we are heirs together of the grace of life, sanctifying one another so as to reduce our embarrassment at the Judgment Seat of Christ. My favorite dying song is "I want to walk over heaven with you some sweet day." Heaven will be much sweeter with my best friend by my side.
QUOTING QUIVERFULL is a regular feature of NLQ – we present the actual words of noted Quiverfull leaders and ask our readers: What do you think? Agree? Disagree? This is the place to state your opinion. Please, let's keep it respectful – but at the same time, we encourage readers to examine the ideas of Quiverfull and Spiritual Abuse honestly and thoughtfully.
If this is your first time visiting NLQ please read our Welcome page and our Comment Policy!
Comments open below
NLQ Recommended Reading …