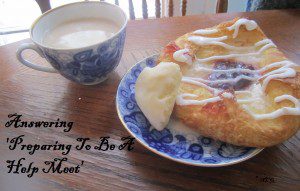 Another installment of giving better answers to the questions asked at Debi Pearl's site message board for the book 'Preparing To Be A Help Meet'. Many young ladies ask questions on all sorts of different subjects brought up by the book. There was just one big problem, many of the answers stray into either the outright bad and emotionally unhealthy to dangerous. Yes, typical Debi Pearl borderline abusive. Here's what we're going to be doing here at NLQ. Every week, once or twice a week, I'll be posting up one of the questions from the message board and ask you, our readers, to answer that poor soul's question in a way that is logical, rational and the best possible solution, in other words 180 degree turn from Debi and friends answers. As always  all spelling and grammar in the posting is unchanged from the original author.
Okay, on to today's question:
Is there a line between submitting and being yourself?
My husband and I have been married for 8 years. He is definitely a visionary with some steady. Though we have a good marriage, I have felt like ever since we got married, he's been trying to change me. When we first married I had looong hair and only wore skirts/dresses. Six months later he asked me to cut my hair to my shoulders and start wearing pants. He was into bicycle racing and felt I would "fit in" better if I made these changes, so I did. Two weeks later he decided he wanted my hair long again, but still wanted me to wear pants. Later he didn't want me to wear brown for a while….then a few years later, after we became friends with some Mennonites, he decided I should only wear skirts/dresses again and not wear makeup, jewelry or nail polish. Now that we're moved away from them, he is fine with me wearing some makeup and pants around the farm or woodcutting and stuff like that. I don't know how many times he has had me go thru my clothes and get rid of things just because he didn't like the color/pattern even if it was modest. Also he used to buy me jewelry and he even painted my toenails when I was super pregnant (before all these changes), and would always compliment me on the way I looked when I dressed up for him. Now he never compliments  me and he says he's always hated nail polish and jewelry.

OK so now that our oldest daughter is 5, she's been asking to paint her nails, so my husband told me that if it's something I like, then we can do it, but he doesn't care for it. So what do I do? Is it ok to do things that I enjoy even if he doesn't care for it? I want to submit, but I feel so confused and unsure of myself. I've always loved dressing up for him and now I feel like he doesn't even see/notice me unless I'm naked (which we have great intimacy). I have brought this up to him but he gets upset and offended and treats me like I'm being unreasonable or something. Anyway, I would just like advice on this and how to encourage my husband to just be stable in our beliefs and stop changing the rules whenever we're around different people. Thank you for any advice!
Sweetheart, no man should have that much say or power over how you dress or wear your hair! But typically Shalom tells her to learn to please her husband. Is this really good advice or just doubling down on the control and possible abuse?
If this is your first time visiting NLQ please read our Welcome page and our Comment Policy!
Comments open below
NLQ Recommended Reading …