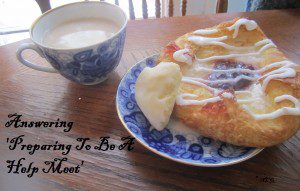 Another installment of giving better answers to the questions asked at Debi Pearl's site message board for the book 'Preparing To Be A Help Meet'. Many young ladies ask questions on all sorts of different subjects brought up by the book. There was just one big problem, many of the answers stray into either the outright bad and emotionally unhealthy to dangerous. Yes, typical Debi Pearl borderline abusive. Here's what we're going to be doing here at NLQ. Every week, once or twice a week, I'll be posting up one of the questions from the message board and ask you, our readers, to answer that poor soul's question in a way that is logical, rational and the best possible solution, in other words 180 degree turn from Debi and friends answers. As always all spelling and grammar in the posting is unchanged from the original author.
Okay, on to today's question:
Wedding and in-law problems: What should I do?

So I'm getting married to my best friend next year. I want a small, evening wedding with just his immediate family and mine at the ceremony (that will total 25) with a potluck/informal style meal for our friends and wider family circle afterwards. However, my mother-in-law-to-be is really pushing hard for a large wedding in the church hall with a three course meal in an upmarket restaurant to follow. My fiancé is being a typical man and claims that as long as we get married, he's not so bothered how it happens although he did admit he would prefer a smaller ceremony. His mother got very annoyed at this and eventually Anthony had to plainly and frankly tell her that she MUST leave me alone to manage the wedding but she ignored everything he said and she is still making my life really hard. She says things like, "Anthony deserves to be spoilt on this occasion; it's his wedding too", "I know Anthony far better than you or he does do so I should be the one to make the decisions". Anthony and I are tired of getting arguing with her and we are getting to our limit of how much we can take. We are considering eloping but we know our families would not like that option but we really don't what to do. At one point she even threatened to not come to the wedding but I think she saw sense about that. I really don't get why she's taken this sudden dislike to me. She and Ant's dad both gave him their blessing before he proposed to me and was so kind to me until Anthony and I sat down to plan the wedding. Then she barged into the room and was like, "no, I don't like that idea…or that one…no…how about this?". It's our wedding and we don't want to have one that is filled with tension but neither do we want her option. Her husband refuses to take anyone's 'side'. The thing is, Anthony is paying for the wedding and we really can't afford a three course meal for 300 people! He has a successful business but right now most of his money is going into savings for our house. We said this to her and she offered to pay for it which shows just how much she wants her way but we don't know how to compromise and we don't want to give in because we don't want her to muscle in on every major decision in our lives after that, believing she knows best! I really need some expert advice!
Shalom's advice to this lady is to make up a contract with the fiance, sign it, distribute it and refuse to talk to anyone that criticizes their plans without the fiance present. Personally I think that is likely to only make the situation with the soon to be mother in law go ballistic and worsen relations between them. What would you advise?
If this is your first time visiting NLQ please read our Welcome page and our Comment Policy!
Comments open below
NLQ Recommended Reading …