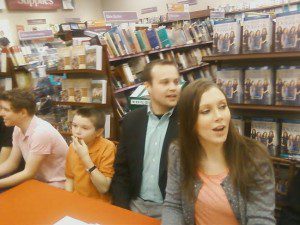 Rather than recap a few and keep editing new ones in I'm going to provide a daily round up of articles until TLC does the right thing and cancels "19 Kids & Counting" Right now they've pulled all reruns of the show until June 1st. The first of next month they start airing the show again. No decision on if they will pull the show permanently or just axe Josh from the show and continue on.
From TMZ: Josh Duggar on the Chopping Block
Discussion on if they will continue the show without Josh on it. Apparently TLC is reluctant to let go of their fecundity-laced cash cow even if a crime was committed and they're showing possible victims. Mammon above all. TLC and the Duggars worship the same God – Money.
From If You Only News. Com – Unbelievable. The Christian Right Backs Josh Duggar and His 'Loving Family'
Article about how Duggar fans and members of the extreme Christian Right are not only supporting the family, they are claiming this is some sort of ebul librul plot to take out a powerful witless, errr, witness for Christ. With stomach churning screen caps of the idiocy.
From Raw Story – Mike Huckabee's Facebook fans tears him to shreds for defending Josh Duggar
Remember when Mike Huckabee jumped right into the middle of the public discussion on the criminal doings of Josh Duggar yesterday? Apparently he's managed to piss off a large number of people who were going to vote for him.
From Gawker – The Duggar Homeschool Program's Terrifying Advice on Sexual Assault
This article has scanned in pages and charts from sexual predator Bill Gothard's ATI program, the same homeschooling program and rules that the Duggar family follows.
From MSN – TLC "Deeply Saddened" As It Pulls All Episodes of "19 Kids & Counting" In Wake of Child Molestation Allegations
Official statement from TLC and talk of the future of the show.
From Raw Story – Dan Savage blasts Michelle Duggar's hypocrisy
Recap of Dan Savage on All In With Chris Hayes. Finally someone is pointing out the parents role in all of this and pointing to the hypocrisy of the Duggar family.
From Slate – Josh Duggar is the latest in a string of sex abuse scandals rocking religion
Linking the Duggars to the Doug Phillips and Vision Forum scandal as well as Bill Gothard's allegations of being a sexual predator at IBLP/ATI
Credo Petitions – Tell TLC To Stop Supporting A Child Molester By Cancelling "19 Kids & Counting"
Please sign.
~~~~~~~~~~~
A few new pieces by members of NLQ's SASBN
Joe Sands at his blog Incongruous Circumspection – Fuck You, Faceless Victims. God Forgave Us: The Josh Duggar Saga Part One and Part Deux
Samantha Field at her blog Defeating The Dragons – How Josh Duggar Is Getting Away With It
~~~~~~~~~~
Yesterday NLQ published a piece written by S.J. Reidhead on the Josh Duggar situation and put a disclaimer on it. It should have been  made clear that her piece was sarcastic, not serious, something that wasn't obvious to everyone. Sarcasm doesn't always translate well on the internet.  Comments are closed now to stop the bashing. No harm was meant by either the author or anyone at NLQ. NLQ apologizes most sincerely to S.J. Reidhead for not putting a note that her piece was supposed to be read as sarcasm.

Since this is a Duggar posting, it means that Duggar fans coming here will see this six months to 2 years out of date to rant and flounce about angrily in the comments. Before all that flouncing commences please read our Duggar Fan Comment Policy first!
If this is your first time visiting NLQ please read our Welcome page and our Comment Policy!
Comments open below
NLQ Recommended Reading …