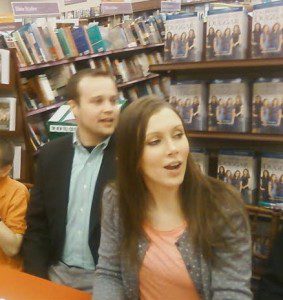 A round up of thought provoking articles on the situation with the Duggar family and son Josh after the revelations of his serial sexual abuse of young women.
From The Washington Post –  The Duggar's dangerous cult of purity
The Post doesn't tell the disgusting licked unwrapped candy bar story that is often used to illustrate purity, but they have one straight from Michelle Duggar that is equally bad. They are right, we do need to push back against this dangerous type of thinking.
From Spiritual Sounding Board – Ex-Wife of Pedophile Speaks Out About The Village Church & Josh Duggar Sex Scandals
Explanations of how gross sexual misconduct is handled in fundamentalist and evangelical churches along with her own cautionary tale. Also explains how women and children are devalued and harmed by the cheap grace and pseudo-repentance in those types of churches.
From Cosmopolitan Magazine – Josh Duggar Didn't Make a Mistake, He Committed a Crime
Reasons why treating Josh Duggar's actions as a 'teenage mistake' instead of a sex crime are wrong.
From Addicting Information – The Duggars (and the Anti-Marriage Right) Owe LGBT America a Huge Apology
An article on how calling for the suppression of rights for the gay community in America while hiding a sexual predator is the worst kind of hypocrisy.
From Gawker – The Web Has Known About Josh Duggar For Years. When Did TLC Find Out?
Gawker asks an important question. When did TLC know? It seems disingenuous for them to claim they just found out when for the last eight or nine years if you Googled "Josh Duggar" the second search result was the molestation rumor. Did they knowingly put a criminal on television while pretending they didn't know?
From Jezebel – Josh Duggar's Police Records Have Been Destroyed
Confirmation that the record destruction has taken place. But it's too late now because that police report is all over the internet. No taking that back now.
From Raw Story – Christian columnist: Molestation-hiding Jim Bob & Michelle Duggar aren't hypocrites – liberals are
This story is about vile Evangelical blogger Matt Walsh blaming everyone but Josh, Jim Bob and Michelle for what happened. He especially blames liberals. Since I do not ever wish to increase the web traffic and hit counter at either Walsh's blog or where this is posted at – Glenn Beck's The Blaze, we've linked instead to Raw Story's coverage of his words.
Again from Raw Story – Fans express concern and support for Duggar daughters
About time someone did considering how their own parents pimp them out and exploit them.
From TMZ – Josh Duggar — I'm Backing Out of Sandusky
Josh was scheduled to speak this week at the Teach Them Diligently homeschooling conference in Sandusky, Ohio but has backed out. But did he back out or did they ask him not to attend? All mention of him has been erased from the speakers list on the Teach Them Diligently website before it came out that he was not attending.
~~~~~~~~~~
NLQ SASBN member and fellow Patheos contributor Melissa has written and posted a brave piece – It's Not Just The Duggars
~~~~~~~~~~
Alternet has published a new piece by Vyckie Garrison this morning – Five F*cked-up Evangelical Christian Teachings Which Set Jim Bob & Michelle's Family Up For the Josh Duggar Molestation Disaster
Mic. Com has interviewed NLQ Founder Vyckie Garrison – Inside the Christian Cult That Told the Duggars to Blame Their Daughters for Their Abuse
Raw Story has republished Vyckie Garrison's explanation on what Quiverfull actually is from here at NLQ – What Is Quiverfull?
Be sure to tune into CNN on Tuesday, May 26th at 10:00 pm est. Vyckie Garrison will be one of the guests discussing Quiverfull and the Duggars on the CNN news discussion program CNN Today. Check your local listings for times in your area.
If this is your first time visiting NLQ please read our Welcome page and our Comment Policy!
Comments open below
NLQ Recommended Reading …