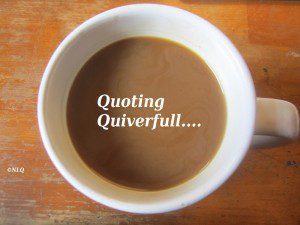 by Zsuzsanna Anderson from Are They All Yours?!?! – Okay, I Voted
Editor's note: This is Pastor Steven L. Anderson's wife's response to another piece quoted here where she explained all the reasons why women should not vote. She got push back on that issue from her own group of supporters. Here's how she claims she votes. Lots of shaming and blaming as usual. Emphasis below mine on something she claims others do when it's obvious she too wastes time online. I would check to see if her pants were on fire, but she thinks wearing pants is a sin. Is her skirt scorched and smoking yet?
You keep on not voting during elections, Zsuzsanna, and the rest of us will decide your fate for you. You can call your powerlessness anything you like but the fact remains you're still completely powerless.
I voted when, as the public fool bus was picking up less fortunate children on our street, our own children were enjoying the company of their siblings, joking with each other and furthering the close relationships between each other, over a breakfast of fresh-out-of-the-oven, made-from-scratch ham and cheese croissants, with a side of banana and orange juice.
I voted when I decided not to have our children brainwashed in a humanistic school all day today, or any other day of their life, but to rather teach them godly principles at home.

I voted when, instead of doing school work, I decided to suspend their studies this week so that we can more wisely spend these last few days with "only" five kids by preparing for the new baby together, enjoying the weather, and making seasonal crafts, as well as Christmas gifts from the children to the grandparents.

I voted when I sat down and read the Bible with each of the children.

I voted when one of the little children decided they just did not feel like taking their much needed nap today, and I decided that they were going to take one anyway, because I had said so and I'm their authority. I voted again when the same child decided to try this number again at bedtime, again with no success.

I voted when, time and again, a child needed my attention, affection, assistance, or guidance, and I gave it to them, rather than being unavailable to them because I wasted my time on the phone, computer, or other meaningless distractions that can seem so much more alluring than the mundane aspects of motherhood.

I voted when, instead of popping the kids in front of the TV to further be brainwashed, I sat down and read them a chapter from a wholesome book, even though I started losing my voice halfway through it.
I voted when I prayed to the God of the universe, the One who holds the breath of every single human being in His hands, including that of our corrupt politicians.
QUOTING QUIVERFULL is a regular feature of NLQ – we present the actual words of noted Quiverfull leaders, cultural enforcers and those that seek to keep women submitted to men and ask our readers: What do you think? Agree? Disagree? This is the place to state your opinion. Please, let's keep it respectful – but at the same time, we encourage readers to examine the ideas of Quiverfull and Spiritual Abuse honestly and thoughtfully.
If this is your first time visiting NLQ please read our Welcome page and our Comment Policy!
Comments open below
NLQ Recommended Reading …