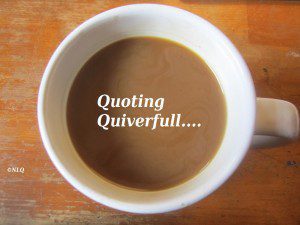 by Anonymous in No Greater Joy Magazine – To Obey is Better
Editor's note: This is pretty sad and self shaming. The author wanted her own study Bible early on in her marriage and her husband refused to buy it for her. She's blaming her reactions to that and accompanying attitudes as the thing that has caused her children to start rebelling. Quiverfull always finds a way to twist normal emotions and project them in a very bad way that layers a mother with unearned guilt.
Somehow my mouth is totally stopped. My hands are tied. I have tried to explain the unexplainable. And even when I feel I have clearly shown them from the Bible, they rise above my words and do what they feel is right. I know I am reaping from all those years of treating my husband with disdain for not buying me the Bible I wanted. I am reaping a crop of—I don't even know what to call it.

I know what I want from my children is obedience. I hate feeling treated like "I just don't get it" about spiritual things. I know what God wants from his children is obedience to him. It took me years to see that sentiment, kindness, piety, devotion, feelings of giving and sacrifice, and all that goes with it are stuff and nonsense without simple obedience. I found this verse that says it all: "And Samuel said, Hath the LORD as great delight in burnt offerings and sacrifices, as in obeying the voice of the LORD? Behold, to obey is better than sacrifice, and to hearken than the fat of rams" (1 Samuel 15:22).

Now I can clearly see why God reacted to Saul when God gave him specific instructions to follow in a battle with the Ammonites. God told him to ruthlessly destroy everything and everybody. Saul had tender, gentle feelings, thus hesitated doing such a brutal thing. Saul was frugal and didn't see any need to destroy herds, especially since they could be offered as sacrifices. Saul acted in a more caring, more spiritual, more all-compassionate way than God. God's response to Saul's trying to out-do God is found in 1 Samuel 15:23: "For rebellion is as the sin of witchcraft, and stubbornness is as iniquity and idolatry. Because thou hast rejected the word of the LORD, he hath also rejected thee from being king."
QUOTING QUIVERFULL is a regular feature of NLQ – we present the actual words of noted Quiverfull leaders, cultural enforcers and those that seek to keep women submitted to men and ask our readers: What do you think? Agree? Disagree? This is the place to state your opinion. Please, let's keep it respectful – but at the same time, we encourage readers to examine the ideas of Quiverfull and Spiritual Abuse honestly and thoughtfully.
If this is your first time visiting NLQ please read our Welcome page and our Comment Policy!
Comments open below
NLQ Recommended Reading …