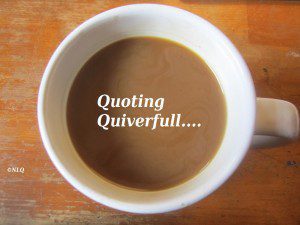 by Michael Pearl of No Greater Joy – It's The Book's Fault
Editor's note: Even more calling out his critic and laying the blame for the failure of his methods with her.
It doesn't have to be an either/or. But if you find that as a result of personal limitations you are unable to achieve the norm, then know that fellowship and good will are always first on any child training agenda. Criticism, anger, and rejection are Satanic soil, a place to breed rebels and derelicts. You should have given more attention to the section on tying strings of fellowship.

I have been hard on you. But I believe you have asked for it. Despite shades of your attempting to pass the buck, I can see that you know the answer lies with a change in your own heart. You are correct in that estimation, and I assure you that such a transformation is within sight.

Paul the Apostle described his own similar experience of awakening.

"For I was alive without the law once: but when the commandment came, sin revived, and I died. 10 And the commandment, which was ordained to life, I found to be unto death. 11 For sin, taking occasion by the commandment, deceived me, and by it slew me. 12 Wherefore the law is holy, and the commandment holy, and just, and good. 13 Was then that which is good made death unto me? God forbid. But sin, that it might appear sin, working death in me by that which is good; that sin by the commandment might become exceeding sinful. 14 For we know that the law is spiritual: but I am carnal, sold under sin. 15 For that which I do I allow not: for what I would, that do I not; but what I hate, that do I. 16 If then I do that which I would not, I consent unto the law that it is good (Romans 7: 9-16)."

At one time, probably in his youth, Paul was comfortable in a shallow interpretation of the law. But the day came when he began to understand the implications of God's commandments, at which time he did just what you did, he accepted the new revelation as good and binding upon his life. But when he tried to obey, the experience was far worse than before he had his expectations raised. He even describes his experience of the law as a revival of sin and death.

The main thrust of the coming of the law was to awaken his conscience to a higher righteousness, a righteousness he should obey, but he would find he couldn't. In a small way, our book was to you in the area of child-training what the law was to Paul. The law was designed to be a schoolmaster to bring him to Christ (Gal 3:24). As a schoolmaster the law found him wanting and failed him. But what the law could not do in that it was weak through the flesh, Christ did do through His Spirit (Rom. 8:3).

Dear Mother, you are in that very same place spiritually. You do not need more technique. You need a fresh dose of grace, mercy, and love from God. You need a trip to the cross and the open tomb. You need what I need daily, a trip to the upper room and the filling of the Holy Spirit. Wash yourself in the mercy of God, accept His forgiveness, and you will be different from the inside out. You cannot work this out in your mind. It is the miracle of Christianity to which I direct you.

By way of practical advice, there are several things you need to consider:

Your own relationship to God

Without doubt, when a parent is out of fellowship with the children, he/she is out of communion with God. The broken chain is most obvious in the parents' relationship to their children, but the cause is much further back in the chain of relationships. If there is no peace within, it will manifest itself in your relationship to the kids. You cannot hide your own condition with training techniques. There is no way to do the right thing if you are not the right person.

We don't have the space here, nor is this the format, to do justice to this subject. What I have said about your relationship to God could bury you under a pile. You already feel inadequate. To tell you that you are "not a good Christian" is rubbing salt in the wound. But please understand, at this point I am not calling you to a higher level of maturity. I am not telling you to settle down and do better. We often forget; there is only one way to relate to God, and that is through the blood of His son. At any moment, without any preparation, any of us can confess our total sinfulness and enter into an experience of mercy and grace. God delights to grant forgiveness to the "poor in spirit." The big obstacle to God's blessings is our own efforts at acceptance. We can never find acceptance with God by reaching a place where we accept ourselves. Based on the sacrifice of Christ, God accepts what we cannot—in others and ourselves. What we reject, God injects with abundant mercy and forgiveness. The road to forgiveness is not to reverse your course (which is impossible) but to throw yourself upon the mercy of God. Purchase the little book, All of Grace, by C. H. Spurgeon. The first chapter will set your soul free. We do not sell the book. It can be found in most any Christian bookstore.

Your relationship to your husband

You cannot be a better mother than you are a wife. You cannot be in contention with your husband and be relaxed with the kids. It is impossible. You are a whole person, not an actor with different roles. There is a chain of authority, with God at the top, then your husband, you, and finally the kids. A chain of authority is also a channel for the delivery of blessings. If you do not receive from the chain above, you cannot pass it on to the kids under you.
QUOTING QUIVERFULL is a regular feature of NLQ – we present the actual words of noted Quiverfull leaders, cultural enforcers and those that seek to keep women submitted to men and ask our readers: What do you think? Agree? Disagree? This is the place to state your opinion. Please, let's keep it respectful – but at the same time, we encourage readers to examine the ideas of Quiverfull and Spiritual Abuse honestly and thoughtfully.
If this is your first time visiting NLQ please read our Welcome page and our Comment Policy!
Comments open below
NLQ Recommended Reading …