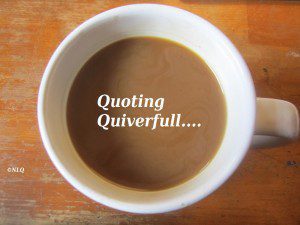 by Michael Pearl from No Greater Joy – It's The Book's Fault
Editor's note: Another laundry list of bad attitudes or thought crimes that Michael claims makes his book not work right. Impossible standards. Emotional control.
Your relationship to your parents and friends

If there is bitterness, guilt, or resentment toward your parents or friends, your spirit will not be free to bless your children. If you are giving or receiving condemnation to anyone, then you cannot be other than a source of condemnation for your children. Condemnation is like an odor; you cannot direct it. It just oozes in all directions, affecting everyone.

Your attitude toward training

There can be only one motive for training your children—their welfare as they grow to bring glory to God. If you accept pressure from friends, relatives, or society to perform in a certain way, then you are no longer raising up children, you are coaching performers. The expectation of others is a blind motivator. It cares not for soul or spirit. It is for the praise of the moment—not praise of the child, but praise of parents. Don't let anything, including our book, put you under pressure to display your good parenting. On your part, be content to be a failure. Care not for your reputation. True training is soul training. Soul training is first training in love, peace, creativity, grace, kindness, understanding, and then self-discipline, obedience, and responsibility. To try to teach heart obedience and self-discipline in an atmosphere of criticism and anger is like trying to make ice in the oven. Shake yourself free from public opinion and personal ambition. Freedom of spirit and joy are caught, not taught.

Your attitude toward life on this planet

To be a good mother you must have eternity in view. By that I do not mean that you must put on religious pretense, always rebuking the carnal minded around you, and steering all conversations back to the "sacred." A mother with eternity in view will see the value of relaxing with her children. Housework and schoolwork are so temporal, so worldly, unless you can do them in a spirit of fellowship with others. Everyday deserves a song and a dance, not the dance of the world, but the dance of carefree feet tiptoeing through the blessings and joy of just being. Dirty floors, clothes that didn't get picked up, spilled milk, and schoolwork that didn't get done will be of no consequence 100,000 years from now. Whether poor or rich, highly educated or common laborer, the heart is cultivated to enjoy God's presence. All else is vanity and vexation of spirit.

Write down all the things that trouble you during a day, not just the ones that pertain to the children. What is the very first irritation of the morning. It may be very subtle. It may not lead to bad words. You may not even be aware that your have been turned to a bad spirit. Write it all down for one day and then review it at night. Was it worth it? What are your values? Can you realistically expect others to change? If you change in your values and responses, then all has changed.
QUOTING QUIVERFULL is a regular feature of NLQ – we present the actual words of noted Quiverfull leaders, cultural enforcers and those that seek to keep women submitted to men and ask our readers: What do you think? Agree? Disagree? This is the place to state your opinion. Please, let's keep it respectful – but at the same time, we encourage readers to examine the ideas of Quiverfull and Spiritual Abuse honestly and thoughtfully.
If this is your first time visiting NLQ please read our Welcome page and our Comment Policy!
Comments open below
NLQ Recommended Reading …