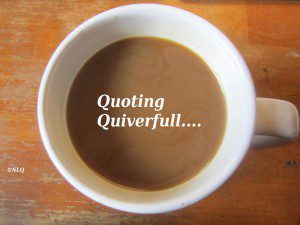 by Zsuzsanna Anderson from her blog Are They All Yours?
Editor's note: Everyone's favorite Holocaust denier (check out her latest posting claiming the Holocaust never happened) argues that you cannot begin to recover from sexual abuse if the abuser isn't properly punished via something like execution and without God. She's making some pretty big assertions there for someone with no experience in the field of recovery. She also seems to think that repentance of sins is not enough to be 'saved'. What type of gospel is being preached at Faithful Word Baptist Church in Tempe? Tomorrow the conclusion of Zsuzsanna's thoughts on crime, punishment and the Duggars.
– Not all who are abused become abusers themselves, and it is never an excuse. I do believe that without the perpetrators being punished properly (which would be swift execution), it is virtually impossible for victims to overcome abuse, unless they have the Holy Spirit of God to help them through it.

– The Duggars promote a false gospel that calls for "repentance from sins," rather than, what the Bible teaches, a turning from false religion or whatever else we are trusting to get us into heaven other than Jesus. While I have know many good Christians who truly were saved become mixed up in this doctrine of "there will be / has to be some change," many of which later reversed course and realized that their definition of repentance was works salvation, the Duggars push this point more than most, and associate with obviously false prophets such as Ray Comfort and Kirk Cameron, promote the damnable "Hell's best kept secret," etc. Because of this, I have only ever given them a 50/50 chance of truly being saved. Unless I talked to them in person, it is impossible for me to give my opinion on it accurately just because as with everything else, they are so wishy-washy it's hard to put a finger on it. I give their children even less of a chance of being saved, since it seems all they have ever known is this false gospel crowd.

– Being popular and loved by the world is another sign of a false prophet. Then again, while the Duggars enjoyed immense popularity, it was hardly for their Bible preaching/teaching, but rather for their unusual family size and lifestyle. Remember, the show does not promote virtually any doctrine, at all. Besides, they had vehement and vocal haters, too. So their rock star status may or may not be an indicator of being a false prophet.

– It is ridiculous of all these Christian blogs to go on and on about how we are all sinners, we all need grace and forgiveness, etc. Yes, that is all true – but we are not all pedophiles. That is an unnatural desire, only experienced by a reprobate. Even the world, which is happy to excuse most sins and licentious living, is still horrified by child abuse. No, forgiving a pedophile is not a great picture of what the gospel is all about. They have crossed a line where not even God is willing to forgive – why should we?
QUOTING QUIVERFULL is a regular feature of NLQ – we present the actual words of noted Quiverfull leaders, cultural enforcers and those that seek to keep women submitted to men and ask our readers: What do you think? Agree? Disagree? This is the place to state your opinion. Please, let's keep it respectful – but at the same time, we encourage readers to examine the ideas of Quiverfull and Spiritual Abuse honestly and thoughtfully.
If this is your first time visiting NLQ please read our Welcome page and our Comment Policy!
Comments open below
NLQ Recommended Reading …