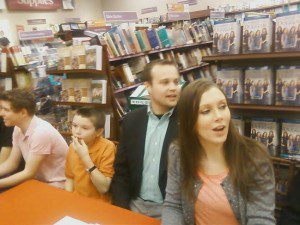 This morning In Touch Weekly revealed on their website that there was absolutely no way that The Learning Channel could not have known about Josh Duggar molesting five girls over a period of time. Why? Because TLC film crews were all over the Duggar household in 2007 filming the birth of Jennifer Duggar, August 2, 2007. Josh Duggar sued the Arkansas Dept. of Human Services and went to trial four days later on August 6, 2007.
It would be nigh on impossible for the film crews to be part of the daily routine of the Duggar family and miss the preparation for going to court or any visits or investigation by Families In Need or the Arkansas Dept. of Human Services.
Why did Josh sue? From In Touch:
Police referred the matter to the Families in Need of Services agency, which has jurisdiction over minors. The Department of Human Services (DHS) was then brought into the case, In Touch has learned. Nine months after those agencies entered the Duggar molestation case, Josh Duggar sued the Arkansas Department of Human Services. A trial was held on August 6, 2007.
At least it sounds like the victims could have been given some access to therapists:
"Josh would be considered an in-home offender, giving DHS the authority to do an investigation. As part of your appeal rights you can request a DHS hearing to challenge what they found and their ruling."

The Duggars are refusing to comment on the intervention by either department and Josh's trial against DHS. They also are refusing to say if their family was monitored by a state agency after the 2007 actions and forced to undergo counseling by a licensed mental health professional.
Now the State Trooper Joseph Hutchens is claiming that Jim Bob told him that the groping Josh did happened exactly one time to one girl, not the multiple times to different girls, says he would have taken action had he knew he was being lied to. From Raw Story:
"Jim Bob explained to me that Josh inappropriately touched [a victim] while she was asleep," Hutchens told the magazine. "He said it only happened one time."

Hutchens gave Josh Duggar "a very stern talk," according to his father, but took no official action – but he told the magazine that he might have done more if he realized the extent of the abuse going on in the family's home.
Too bad the statute of limitations has run out on having Jim Bob Duggar prosecuted for lying to an officer of the court and for reckless child endangerment.
If TLC and the production crew knew of this, the possibility of harm coming to the children in the family due to what happened in the past could they possibly been held responsible in some way?
And more advertisers have pulled out of running ads on TLC's "19 Kids & Counting". Last night the count was General Mills, Walgreens, Payless Shoes and Choice Hotels. According to TMZ now Jimmy Dean, Pure Leaf Iced Tea, Ace Hardware, David's Bridal, ConAgra Foods, Party City and Behr Paints. Also CVS, H & R Block, Ricola and Keurig have all stated that if the show returns they will not allow their ads on it.
People magazine is claiming that Jim Bob and Michelle are devastated emotionally and not concerned about the status of the television show at all. Remainders to be seen if that's the truth. TLC still haven't made an announcement as to the future of the show. Currently it is on hiatus until June 1st.
People magazine is also claiming that a 'Duggar insider' (translation: anyone/no one) is claiming that TLC is likely going to retool to focus the show on the Jill Duggar Dillard and Jessa Duggar Seewald and assorted coming offspring.
While the network has yet to announce whether or not 19 Kids and Counting is officially canceled – and full episodes of the show as well as promotional materials remain on the network's website – a source close to the Duggars says a new plan may shift focus away from the large brood headed up by Jim Bob and Michelle Duggar, and instead focus on newlyweds Jill and Derick Dillard, and Jessa and Ben Seewald.

"The show had begun to focus more and more on the next generation of Duggars, anyway – mainly Jill and Jessa and their marriages and babies," says the source. "That's when the show got its highest ratings."
It's also rumored all over online that there is a grainy cell phone video of Josh Duggar visiting places he shouldn't have been back when he was 18 or 19 years old and more footage recently. Seen the footage, not sure it is Josh.
If this is your first time visiting NLQ please read our Welcome page and our Comment Policy!
Comments open below
NLQ Recommended Reading …