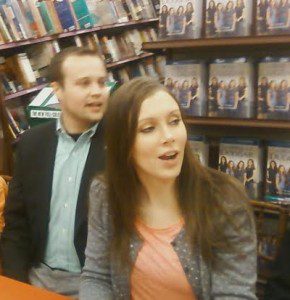 This is starting to feel like a nightmarish never-ending "Law & Order: Special Victims Unit" episode. Today's round up.
MSNBC – Why Did the Duggar Abuse Investigation End
Josh could have been prosecuted up to seven years after the allegations on criminal charges if Arkansas law enforcement.
The Daily Beast – How the Duggar's Church Encourages Young Woman to 'Submit'
More explanations of how Quiverfull Evangelical theology harms young women and sets up females to be sexually abused.
Time – TLC Should Cancel 19 Kids and Counting
Time accuses TLC of shameless money making and pushing a moral fraud. This is starting to sound like money changers in the temple type scenario.
Raw Story – Hobby Lobby billionaire behind that Christian Counseling Center that treated Josh Duggar
No surprises here. Hobby Lobby has been funding serial-fondler of young women Bill Gothard and his ministry for many years.
Time – Josh and Anna Duggar Shut Down Website
Their long time website that originally featured their courtship and engagement has been taken down.
Kathryn Brightbill – I Don't Forgive Josh Duggar
Why forgiving Josh Duggar for his molestation of young girls isn't necessarily Christian
Time – Detailed Online Allegations About Josh Duggar Were Made Years Ago
Finally the media figures out what the rest of us knew years ago.
Time – Why Josh Duggar's Past Will Hurt Social Conservatives
How the news of the molestation will affect the Republican field of Presidential Candidates for 2016
Patheo's Leaving Fundamentalism – Josh Duggar apologized. So What?
Patheo's Ex-Communications – Group Identity, Priorities, and the Josh Duggar Scandal
…and I leave you with a clip from "19 Kids & Counting" where Josh Duggar makes an incest joke. Never appropriate but in light of what happened disgusting.