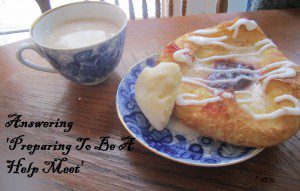 Another installment of giving better answers to the questions asked at Debi Pearl's site message board for the book 'Preparing To Be A Help Meet'. Many young ladies ask questions on all sorts of different subjects brought up by the book. There was just one big problem, many of the answers stray into either the outright bad and emotionally unhealthy to dangerous. Yes, typical Debi Pearl borderline abusive. Here's what we're going to be doing here at NLQ. Every week, once or twice a week, I'll be posting up one of the questions from the message board and ask you, our readers, to answer that poor soul's question in a way that is logical, rational and the best possible solution, in other words 180 degree turn from Debi and friends answers. As always all spelling and grammar in the posting is unchanged from the original author.
Okay, on to today's question:
Only in recent years have I realized that men do not appreciate the competing attitude in women (thanks to the feminist movement, they really can never win "fairly"), and I've had to be very sensitive about this because I came from that fleshy attitude. However, I'm wondering, how far do you take this? I am not considered a very feminine girl (working on it!), and I enjoy playing sports, the law enforcement field, etc. Do guys know when you're just trying to have fun? How do guys take it when you give them a little competition/enjoy the things people tend to label "masculine"?
No one gave this girl any answers, in fact another girl chimed in that she was struggling with this same thing. What would be a good answer to this dilemma?
If this is your first time visiting NLQ please read our Welcome page and our Comment Policy!
Comments open below
NLQ Recommended Reading …