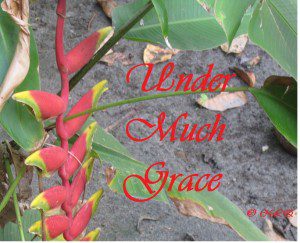 by Cindy Kunsman cross posted from her blog Under Much Grace
Essentially, the most vivid examples of spiritual abuse come from Ezekiel 34 and Zechariah 11, with the consummate example of spiritual abuse embodied in the Pharisees and Sadducees. Though I've listed the references for these Scriptures below, I have also displayed the full texts on the Under Much Grace website, and you can LINK HERE to read them (and as of April 2012, they are also noted below).
There are also two excellent articles that discuss whether or not spiritual abuse is actually found within Scripture itself.
Ron Henzel notes in "Spiritual Abuse and the Bible":
Spiritual Abuse is one of the clearest and most precisely defined teachings to be found in the pages of the Bible, even though it is not presented under that name. When one considers the fact that it is a significant theme in the Old Testament prophets, that our Lord Jesus Christ devoted a considerable portion of His ministry to addressing it, and that every single New Testament author mentions it in some form or in some way, we might sooner question our own Christianity — or at least our knowledge of Scripture — than question the objective definability of Spiritual Abuse…
But while this passage is clear in helping us to establish a basic framework, we need more. We need a set of criteria — an objective standard against which we can compare behaviors we are concerned about, or have questions about, and then answer the question: "Does this behavior or that behavior constitute 'Spiritual Abuse?'"

I feel the need to put what I write here in emphatic terms because Jesus Himself did. In His own time, Jesus confronted people who used their time-honored traditions as a cloak for spiritual abuse, and we see the same phenomenon today. There are groups and churches which claim that some special attribute which they have, or that their unique context or tradition, exempts them and their behavior from being classified as "Spiritual Abuse." Some have even said that the same behavior which might be considered abuse in other churches should not be construed as "abuse" among them! They are somehow different, and the normal criteria of Spiritual Abuse doesn't apply in their situation. … What a shocking notion, and how alien to the Scriptures!

The most common claims that spiritually abusive groups make is that they are so special in their spiritual giftedness, or so unique in their level of spiritual commitment, or so unusual in their circumstances, that it's only natural for less-gifted, less-committed people, or people less familiar with their special context, to draw incorrect conclusions, perhaps even out of resentment or jealousy. After all, if you're one of the elite, people will be jealous … so the reasoning goes … and will fail to understand our practices.
David Henke notes in "Spiritual Abuse in the Bible?"
Spiritual abuse has a very prominent place in the Bible, though that terminology has not been used until recently. In the scripture it is called bondage to men and the traditions of men. It is a by-product and outgrowth of legalism, which is bondage to the letter of the law.

Mark 3 describes the scene as Jesus enters a synagogue on the Sabbath and encounters a man with a withered hand. The Pharisees watched to see what Jesus would do. They must have been threatened, or offended, by this man's regard for the needy at the expense of their rules, because Jesus saw and knew they would try to accuse Him of "working" on the Sabbath. He also knew that He was going to heal the man, so He used a question to set up the Pharisees to be seen as the hypocrites they were. He asked, "Is it lawful to do good on the Sabbath days, or to do evil? To save life, or to kill?"

The potential answers to this question for the Pharisees presented unacceptable dilemmas. It is like the question, "Have you stopped beating your wife?" It is certainly not lawful to do evil, or kill, on the Sabbath, which left the Pharisees with just one other choice. And that choice pitted the Pharisees against their own traditions and interpretation of the Law. Jesus also knew they wanted to kill Him when he included the reference to killing in His question. That is exactly what the Pharisees began to do when they left.

There is a lesson in this passage for anyone dealing with an abusive religious system. If you challenge, disagree, oppose, or in any way offend, you cannot leave with your reputation intact. In the most severely dysfunctional groups you may even lose your life, as Jesus did.
Scriptures Pertaining to Spiritual Abuse
Jesus Has Concern and Compassion
for the Scattered Sheep Who Had No Shepherd
Matthew 9:35-38
Mark 6:33-34
John 10:11-13
Examples of Shepherds With Only
the Duty and Compassion of a Hireling:
Shepherds Who Scatter Sheep
Ezekiel 34:1-24
Zechariah 11
Jeremiah 5:26-31
1 Peter 5:1-4
Pharisees: The Consummate Spiritual Abusers
Matthew 16:5-12
Matthew 10:11-30
Matthew 23
Luke 15:1-2
Matthew 12:1-14
False Teachers and Deceivers
Who Add Legalism and Extra-Biblical Requirements
2 Peter 2
2 Timothy 3
Titus 1:5-16
Galatians 2-3
Romans 14
Aaron's Lack of Discernment
and Appeasement of Israel:
Pastors Lacking Principles
(Aaron Has a Variation of Flip Wilson's Disease:
"The People Made Me Do It!")
Jesus Has Concern and Compassion
for the Scattered Sheep Who Had No Shepherd

Then Jesus went about all the cities and villages, teaching in their synagogues, preaching the gospel of the kingdom, and healing every sickness and every disease among the people. But when He saw the multitudes, He was moved with compassion for them, because they were weary and scattered, like sheep having no shepherd. Then He said to His disciples, "The harvest truly is plentiful, but the laborers are few. Therefore pray the Lord of the harvest to send out laborers into His harvest."
But the multitudes saw them departing, and many knew Him and ran there on foot from all the cities. They arrived before them and came together to Him. And Jesus, when He came out, saw a great multitude and was moved with compassion for them, because they were like sheep not having a shepherd. So He began to teach them many things.
I am the good shepherd. The good shepherd gives His life for the sheep. But a hireling, he who is not the shepherd, one who does not own the sheep, sees the wolf coming and leaves the sheep and flees; and the wolf catches the sheep and scatters them. The hireling flees because he is a hireling and does not care about the sheep.
Examples of Shepherds With the Duty and Compassion of a Hireling:Shepherds Who Scatter Sheep
The word of the LORD came to me: "Son of man, prophesy against the shepherds of Israel; prophesy and say to them: 'This is what the Sovereign LORD says: Woe to the shepherds of Israel who only take care of themselves! Should not shepherds take care of the flock? You eat the curds, clothe yourselves with the wool and slaughter the choice animals, but you do not take care of the flock. You have not strengthened the weak or healed the sick or bound up the injured. You have not brought back the strays or searched for the lost. You have ruled them harshly and brutally. So they were scattered because there was no shepherd, and when they were scattered they became food for all the wild animals. My sheep wandered over all the mountains and on every high hill. They were scattered over the whole earth, and no one searched or looked for them.
" 'Therefore, you shepherds, hear the word of the LORD : As surely as I live, declares the Sovereign LORD, because my flock lacks a shepherd and so has been plundered and has become food for all the wild animals, and because my shepherds did not search for my flock but cared for themselves rather than for my flock, therefore, O shepherds, hear the word of the LORD : This is what the Sovereign LORD says: I am against the shepherds and will hold them accountable for my flock. I will remove them from tending the flock so that the shepherds can no longer feed themselves. I will rescue my flock from their mouths, and it will no longer be food for them.
" 'For this is what the Sovereign LORD says: I myself will search for my sheep and look after them. As a shepherd looks after his scattered flock when he is with them, so will I look after my sheep. I will rescue them from all the places where they were scattered on a day of clouds and darkness. I will bring them out from the nations and gather them from the countries, and I will bring them into their own land. I will pasture them on the mountains of Israel, in the ravines and in all the settlements in the land. I will tend them in a good pasture, and the mountain heights of Israel will be their grazing land. There they will lie down in good grazing land, and there they will feed in a rich pasture on the mountains of Israel. 15 I myself will tend my sheep and have them lie down, declares the Sovereign LORD. 16 I will search for the lost and bring back the strays. I will bind up the injured and strengthen the weak, but the sleek and the strong I will destroy. I will shepherd the flock with justice.
" 'As for you, my flock, this is what the Sovereign LORD says: I will judge between one sheep and another, and between rams and goats. Is it not enough for you to feed on the good pasture? Must you also trample the rest of your pasture with your feet? Is it not enough for you to drink clear water? Must you also muddy the rest with your feet? Must my flock feed on what you have trampled and drink what you have muddied with your feet?
" 'Therefore this is what the Sovereign LORD says to them: See, I myself will judge between the fat sheep and the lean sheep. Because you shove with flank and shoulder, butting all the weak sheep with your horns until you have driven them away, I will save my flock, and they will no longer be plundered. I will judge between one sheep and another. I will place over them one shepherd, my servant David, and he will tend them; he will tend them and be their shepherd. I the LORD will be their God, and my servant David will be prince among them. I the LORD have spoken.
This is what the LORD my God says: "Pasture the flock marked for slaughter. Their buyers slaughter them and go unpunished. Those who sell them say, 'Praise the LORD, I am rich!' Their own shepherds do not spare them….So I pastured the flock marked for slaughter, particularly the oppressed of the flock. Then I took two staffs and called one Favor and the other Union, and I pastured the flock. In one month I got rid of the three shepherds. The flock detested me, and I grew weary of them and said, "I will not be your shepherd. Let the dying die, and the perishing perish. Let those who are left eat one another's flesh."….Then the LORD said to me, "Take again the equipment of a foolish shepherd. For I am going to raise up a shepherd over the land who will not care for the lost, or seek the young, or heal the injured, or feed the healthy, but will eat the meat of the choice sheep, tearing off their hoofs. "Woe to the worthless shepherd, who deserts the flock! ay the sword strike his arm and his right eye! May his arm be completely withered, his right eye totally blinded!"

Jeremiah 5:26-31 (NKJV)
For among My people are found wicked men; They lie in wait as one who sets snares; They set a trap; They catch men. As a cage is full of birds, So their houses are full of deceit. Therefore they have become great and grown rich. They have grown fat, they are sleek; Yes, they surpass the deeds of the wicked; They do not plead the cause, The cause of the fatherless; Yet they prosper, And the right of the needy they do not defend. Shall I not punish them for these things?' says the LORD.
Shall I not avenge Myself on such a nation as this?' " An astonishing and horrible thing Has been committed in the land: The prophets prophesy falsely, And the priests rule by their own power; And My people love to have it so. But what will you do in the end?
The elders who are among you I exhort, I who am a fellow elder and a witness of the sufferings of Christ, and also a partaker of the glory that will be revealed: Shepherd the flock of God which is among you, serving as overseers, not by compulsion but willingly, not for dishonest gain but eagerly; nor as being lords over those entrusted to you, but being examples to the flock; and when the Chief Shepherd appears, you will receive the crown of glory that does not fade away.
Pharisees: The Consummate Spiritual Abusers
Matthew 16:5-12 The Yeast of the Pharisees and Sadducees
Then they went across the lake, the disciples forgot to take bread. "Be careful," Jesus said to them. "Be on your guard against the yeast of the Pharisees and Sadducees."
They discussed this among themselves and said, "It is because we didn't bring any bread." Aware of their discussion, Jesus asked, "You of little faith, why are you talking among yourselves about having no bread? Do you still not understand? Don't you remember the five loaves for the five thousand, and how many basketfuls you gathered? Or the seven loaves for the four thousand, and how many basketfuls you gathered? How is it you don't understand that I was not talking to you about bread? But be on your guard against the yeast of the Pharisees and Sadducees." Then they understood that he was not telling them to guard against the yeast used in bread, but against the teaching of the Pharisees and Sadducees.
Matthew 10:11-30 (NIV) 
Jesus Advises the Twelve
"Whatever town or village you enter, search for some worthy person there and stay at his house until you leave. As you enter the home, give it your greeting. If the home is deserving, let your peace rest on it; if it is not, let your peace return to you. If anyone will not welcome you or listen to your words, shake the dust off your feet when you leave that home or town. I tell you the truth, it will be more bearable for Sodom and Gomorrah on the day of judgment than for that town. I am sending you out like sheep among wolves. Therefore be as shrewd as snakes and as innocent as doves.
"Be on your guard against men; they will hand you over to the local councils and flog you in their synagogues. On my account you will be brought before governors and kings as witnesses to them and to the Gentiles. But when they arrest you, do not worry about what to say or how to say it. At that time you will be given what to say, for it will not be you speaking, but the Spirit of your Father speaking through you.
"Brother will betray brother to death, and a father his child; children will rebel against their parents and have them put to death. All men will hate you because of me, but he who stands firm to the end will be saved. When you are persecuted in one place, flee to another. I tell you the truth, you will not finish going through the cities of Israel before the Son of Man comes.
"A student is not above his teacher, nor a servant above his master. It is enough for the student to be like his teacher, and the servant like his master. If the head of the house has been called Beelzebub, how much more the members of his household!
"So do not be afraid of them. There is nothing concealed that will not be disclosed, or hidden that will not be made known. What I tell you in the dark, speak in the daylight; what is whispered in your ear, proclaim from the roofs. Do not be afraid of those who kill the body but cannot kill the soul. Rather, be afraid of the One who can destroy both soul and body in hell. Are not two sparrows sold for a penny? Yet not one of them will fall to the ground apart from the will of your Father. And even the very hairs of your head are all numbered. So don't be afraid; you are worth more than many sparrows.

 
Matthew 23 (NIV) Abusers in the Seat of Moses: The Seven Woes
Then Jesus said to the crowds and to his disciples: "The teachers of the law and the Pharisees sit in Moses' seat. So you must obey them and do everything they tell you. But do not do what they do, for they do not practice what they preach. They tie up heavy loads and put them on men's shoulders, but they themselves are not willing to lift a finger to move them.
"Everything they do is done for men to see: They make their phylacteries wide and the tassels on their garments long; they love the place of honor at banquets and the most important seats in the synagogues; they love to be greeted in the marketplaces and to have men call them 'Rabbi.' "But you are not to be called 'Rabbi,' for you have only one Master and you are all brothers. And do not call anyone on earth 'father,' for you have one Father, and he is in heaven. Nor are you to be called 'teacher,' for you have one Teacher, the Christ. The greatest among you will be your servant. For whoever exalts himself will be humbled, and whoever humbles himself will be exalted.
"Woe to you, teachers of the law and Pharisees, you hypocrites! You shut the kingdom of heaven in men's faces. You yourselves do not enter, nor will you let those enter who are trying to.
"Woe to you, teachers of the law and Pharisees, you hypocrites! You travel over land and sea to win a single convert, and when he becomes one, you make him twice as much a son of hell as you are.
"Woe to you, blind guides! You say, 'If anyone swears by the temple, it means nothing; but if anyone swears by the gold of the temple, he is bound by his oath.' You blind fools! Which is greater: the gold, or the temple that makes the gold sacred? You also say, 'If anyone swears by the altar, it means nothing; but if anyone swears by the gift on it, he is bound by his oath.' You blind men! Which is greater: the gift, or the altar that makes the gift sacred? Therefore, he who swears by the altar swears by it and by everything on it. And he who swears by the temple swears by it and by the one who dwells in it. And he who swears by heaven swears by God's throne and by the one who sits on it.
"Woe to you, teachers of the law and Pharisees, you hypocrites! You give a tenth of your spices—mint, dill and cummin. But you have neglected the more important matters of the law—justice, mercy and faithfulness. You should have practiced the latter, without neglecting the former. You blind guides! You strain out a gnat but swallow a camel.
"Woe to you, teachers of the law and Pharisees, you hypocrites! You clean the outside of the cup and dish, but inside they are full of greed and self-indulgence. Blind Pharisee! First clean the inside of the cup and dish, and then the outside also will be clean.
"Woe to you, teachers of the law and Pharisees, you hypocrites! You are like whitewashed tombs, which look beautiful on the outside but on the inside are full of dead men's bones and everything unclean. In the same way, on the outside you appear to people as righteous but on the inside you are full of hypocrisy and wickedness.
"Woe to you, teachers of the law and Pharisees, you hypocrites! You build tombs for the prophets and decorate the graves of the righteous. And you say, 'If we had lived in the days of our forefathers, we would not have taken part with them in shedding the blood of the prophets.' So you testify against yourselves that you are the descendants of those who murdered the prophets. Fill up, then, the measure of the sin of your forefathers!
"You snakes! You brood of vipers! How will you escape being condemned to hell? Therefore I am sending you prophets and wise men and teachers. Some of them you will kill and crucify; others you will flog in your synagogues and pursue from town to town. And so upon you will come all the righteous blood that has been shed on earth, from the blood of righteous Abel to the blood of Zechariah son of Berekiah, whom you murdered between the temple and the altar. I tell you the truth, all this will come upon this generation.
"O Jerusalem, Jerusalem, you who kill the prophets and stone those sent to you, how often I have longed to gather your children together, as a hen gathers her chicks under her wings, but you were not willing. Look, your house is left to you desolate. For I tell you, you will not see me again until you say, 'Blessed is he who comes in the name of the Lord.'"
Luke 15:1-2 (NKJV) 
entrapment
Then all the tax collectors and the sinners drew near to Him to hear Him. And the Pharisees and scribes complained, saying, "This Man receives sinners and eats with them."
Matthew 12:1-14 (NKJV) 
entrapment
At that time Jesus went through the grainfields on the Sabbath. And His disciples were hungry, and began to pluck heads of grain and to eat. And when the Pharisees saw it, they said to Him, "Look, Your disciples are doing what is not lawful to do on the Sabbath!"
But He said to them, "Have you not read what David did when he was hungry, he and those who were with him: how he entered the house of God and ate the showbread which was not lawful for him to eat, nor for those who were with him, but only for the priests? Or have you not read in the law that on the Sabbath the priests in the temple profane the Sabbath, and are blameless? Yet I say to you that in this place there is One greater than the temple. But if you had known what this means, 'I desire mercy and not sacrifice,' you would not have condemned the guiltless. For the Son of Man is Lord even of the Sabbath."
Now when He had departed from there, He went into their synagogue. And behold, there was a man who had a withered hand. And they asked Him, saying, "Is it lawful to heal on the Sabbath?"—that they might accuse Him.
Then He said to them, "What man is there among you who has one sheep, and if it falls into a pit on the Sabbath, will not lay hold of it and lift it out? Of how much more value then is a man than a sheep? Therefore it is lawful to do good on the Sabbath." Then He said to the man, "Stretch out your hand." And he stretched it out, and it was restored as whole as the other. Then the Pharisees went out and plotted against Him, how they might destroy Him.

False Teachers and Deceivers
Who Add Legalism and Extra-Biblical Requirements
But there were also false prophets among the people, even as there will be false teachers among you, who will secretly bring in destructive heresies, even denying the Lord who bought them, and bring on themselves swift destruction. And many will follow their destructive ways, because of whom the way of truth will be blasphemed. By covetousness they will exploit you with deceptive words; for a long time their judgment has not been idle, and their destruction does not slumber….
They have forsaken the right way and gone astray, following the way of Balaam the son of Beor, who loved the wages of unrighteousness; but he was rebuked for his iniquity: a dumb donkey speaking with a man's voice restrained the madness of the prophet. These are wells without water, clouds carried by a tempest, for whom is reserved the blackness of darkness forever.
For when they speak great swelling words of emptiness, they allure through the lusts of the flesh, through lewdness, the ones who have actually escaped from those who live in error. While they promise them liberty, they themselves are slaves of corruption; for by whom a person is overcome, by him also he is brought into bondage. For if, after they have escaped the pollutions of the world through the knowledge of the Lord and Savior Jesus Christ, they are again entangled in them and overcome, the latter end is worse for them than the beginning. For it would have been better for them not to have known the way of righteousness, than having known it, to turn from the holy commandment delivered to them. But it has happened to them according to the true proverb: "A dog returns to his own vomit," and, "a sow, having washed, to her wallowing in the mire."
But know this, that in the last days perilous times will come: For men will be lovers of themselves, lovers of money, boasters, proud, blasphemers, disobedient to parents, unthankful, unholy, unloving, unforgiving, slanderers, without self-control, brutal, despisers of good, traitors, headstrong, haughty, lovers of pleasure rather than lovers of God, having a form of godliness but denying its power. And from such people turn away! For of this sort are those who creep into households and make captives of gullible women loaded down with sins, led away by various lusts, always learning and never able to come to the knowledge of the truth. Now as Jannes and Jambres resisted Moses, so do these also resist the truth: men of corrupt minds, disapproved concerning the faith; but they will progress no further, for their folly will be manifest to all, as theirs also was.
But you have carefully followed my doctrine, manner of life, purpose, faith, longsuffering, love, perseverance, persecutions, afflictions, which happened to me at Antioch, at Iconium, at Lystra—what persecutions I endured. And out of them all the Lord delivered me. Yes, and all who desire to live godly in Christ Jesus will suffer persecution. But evil men and impostors will grow worse and worse, deceiving and being deceived. But you must continue in the things which you have learned and been assured of, knowing from whom you have learned them, and that from childhood you have known the Holy Scriptures, which are able to make you wise for salvation through faith which is in Christ Jesus.
All Scripture is given by inspiration of God, and is profitable for doctrine, for reproof, for correction, for instruction in righteousness, that the man of God may be complete, thoroughly equipped for every good work.
For this reason I left you in Crete, that you should set in order the things that are lacking, and appoint elders in every city as I commanded you— if a man is blameless, the husband of one wife, having faithful children not accused of dissipation or insubordination. For a bishop must be blameless, as a steward of God, not self-willed, not quick-tempered, not given to wine, not violent, not greedy for money, but hospitable, a lover of what is good, sober-minded, just, holy, self-controlled, holding fast the faithful word as he has been taught, that he may be able, by sound doctrine, both to exhort and convict those who contradict.
For there are many insubordinate, both idle talkers and deceivers, especially those of the circumcision, whose mouths must be stopped, who subvert whole households, teaching things which they ought not, for the sake of dishonest gain. One of them, a prophet of their own, said, "Cretans are always liars, evil beasts, lazy gluttons." This testimony is true. Therefore rebuke them sharply, that they may be sound in the faith, not giving heed to Jewish fables and commandments of men who turn from the truth. To the pure all things are pure, but to those who are defiled and unbelieving nothing is pure; but even their mind and conscience are defiled. They profess to know God, but in works they deny Him, being abominable, disobedient, and disqualified for every good work.
Now when Peter had come to Antioch, I withstood him to his face, because he was to be blamed; for before certain men came from James, he would eat with the Gentiles; but when they came, he withdrew and separated himself, fearing those who were of the circumcision. And the rest of the Jews also played the hypocrite with him, so that even Barnabas was carried away with their hypocrisy.
But when I saw that they were not straightforward about the truth of the gospel, I said to Peter before them all, "If you, being a Jew, live in the manner of Gentiles and not as the Jews, why do you compel Gentiles to live as Jews? We who are Jews by nature, and not sinners of the Gentiles, knowing that a man is not justified by the works of the law but by faith in Jesus Christ, even we have believed in Christ Jesus, that we might be justified by faith in Christ and not by the works of the law; for by the works of the law no flesh shall be justified.
"But if, while we seek to be justified by Christ, we ourselves also are found sinners, is Christ therefore a minister of sin? Certainly not! For if I build again those things which I destroyed, I make myself a transgressor. For I through the law died to the law that I might live to God. I have been crucified with Christ; it is no longer I who live, but Christ lives in me; and the life which I now live in the flesh I live by faith in the Son of God, who loved me and gave Himself for me. I do not set aside the grace of God; for if righteousness comes through the law, then Christ died in vain."
…Therefore He who supplies the Spirit to you and works miracles among you, does He do it by the works of the law, or by the hearing of faith?— just as Abraham "believed God, and it was accounted to him for righteousness." Therefore know that only those who are of faith are sons of Abraham. And the Scripture, foreseeing that God would justify the Gentiles by faith, preached the gospel to Abraham beforehand, saying, "In you all the nations shall be blessed." So then those who are of faith are blessed with believing Abraham.
For as many as are of the works of the law are under the curse; for it is written, "Cursed is everyone who does not continue in all things which are written in the book of the law, to do them." But that no one is justified by the law in the sight of God is evident, for "the just shall live by faith." Yet the law is not of faith, but "the man who does them shall live by them." Christ has redeemed us from the curse of the law, having become a curse for us (for it is written, "Cursed is everyone who hangs on a tree"), that the blessing of Abraham might come upon the Gentiles in Christ Jesus, that we might receive the promise of the Spirit through faith.
Receive one who is weak in the faith, but not to disputes over doubtful things. For one believes he may eat all things, but he who is weak eats only vegetables. Let not him who eats despise him who does not eat, and let not him who does not eat judge him who eats; for God has received him. Who are you to judge another's servant? To his own master he stands or falls. Indeed, he will be made to stand, for God is able to make him stand.
One person esteems one day above another; another esteems every day alike. Let each be fully convinced in his own mind. He who observes the day, observes it to the Lord; and he who does not observe the day, to the Lord he does not observe it. He who eats, eats to the Lord, for he gives God thanks; and he who does not eat, to the Lord he does not eat, and gives God thanks. For none of us lives to himself, and no one dies to himself. For if we live, we live to the Lord; and if we die, we die to the Lord. Therefore, whether we live or die, we are the Lord's. For to this end Christ died and rose and lived again, that He might be Lord of both the dead and the living. But why do you judge your brother? Or why do you show contempt for your brother? For we shall all stand before the judgment seat of Christ. For it is written: " As I live, says the LORD, Every knee shall bow to Me, And every tongue shall confess to God." So then each of us shall give account of himself to God. Therefore let us not judge one another anymore, but rather resolve this, not to put a stumbling block or a cause to fall in our brother's way.
I know and am convinced by the Lord Jesus that there is nothing unclean of itself; but to him who considers anything to be unclean, to him it is unclean. Yet if your brother is grieved because of your food, you are no longer walking in love. Do not destroy with your food the one for whom Christ died. Therefore do not let your good be spoken of as evil; for the kingdom of God is not eating and drinking, but righteousness and peace and joy in the Holy Spirit. For he who serves Christ in these things[e]is acceptable to God and approved by men.
Therefore let us pursue the things which make for peace and the things by which one may edify another. Do not destroy the work of God for the sake of food. All things indeed are pure, but it is evil for the man who eats with offense. It is good neither to eat meat nor drink wine nor do anything by which your brother stumbles or is offended or is made weak. Do you have faith? Have it to yourself before God. Happy is he who does not condemn himself in what he approves. But he who doubts is condemned if he eats, because he does not eat from faith; for whatever is not from faith is sin.

Aaron's Lack of Discernment and Appeasement of Israel:
Pastors Lacking Principles

(Aaron Has a Variation of Flip Wilson's Disease:
"The People Made Me Do It!")
When the people saw that Moses was so long in coming down from the mountain, they gathered around Aaron and said, "Come, make us gods who will go before us. As for this fellow Moses who brought us up out of Egypt, we don't know what has happened to him." Aaron answered them, "Take off the gold earrings that your wives, your sons and your daughters are wearing, and bring them to me." So all the people took off their earrings and brought them to Aaron. He took what they handed him and made it into an idol cast in the shape of a calf, fashioning it with a tool. Then they said, "These are your gods, O Israel, who brought you up out of Egypt." When Aaron saw this, he built an altar in front of the calf and announced, "Tomorrow there will be a festival to the LORD." So the next day the people rose early and sacrificed burnt offerings and presented fellowship offerings. Afterward they sat down to eat and drink and got up to indulge in revelry…
When Moses approached the camp and saw the calf and the dancing, his anger burned and he threw the tablets out of his hands, breaking them to pieces at the foot of the mountain. And he took the calf they had made and burned it in the fire; then he ground it to powder, scattered it on the water and made the Israelites drink it. He said to Aaron, "What did these people do to you, that you led them into such great sin?" "Do not be angry, my lord," Aaron answered. "You know how prone these people are to evil. They said to me, 'Make us gods who will go before us. As for this fellow Moses who brought us up out of Egypt, we don't know what has happened to him.' So I told them, 'Whoever has any gold jewelry, take it off.'
Then they gave me the gold, and I threw it into the fire, and out came this calf!"
Typical Tricks of the Pharisees
Matthew 23:16-17 
The Double Bind: A Technique of Spiritual Abuse
NIV:
"Woe to you, blind guides! You say, 'If anyone swears by the temple, it means nothing; but if anyone swears by the gold of the temple, he is bound by his oath.' You blind fools! Which is greater: the gold, or the temple that makes the gold sacred?
TMB:
"You're hopeless! What arrogant stupidity! You say, 'If someone makes a promise with his fingers crossed, that's nothing; but if he swears with his hand on the Bible, that's serious.' What ignorance! Does the leather on the Bible carry more weight than the skin on your hands? And what about this piece of trivia: 'If you shake hands on a promise, that's nothing; but if you raise your hand that God is your witness, that's serious'? What ridiculous hairsplitting! What difference does it make whether you shake hands or raise hands? A promise is a promise. What difference does it make if you make your promise inside or outside a house of worship? A promise is a promise. God is present, watching and holding you to account regardless.
~~~~~~~~~~~~
Cynthia Mullen Kunsman is a nurse (BSN), naturopath (ND) and seminary graduate (MMin) with a wide variety of training and over 20 years of clinical experience. She has used her training in Complementary and Alternative Medicine as a lecturer and liaison to professional scientific and medical groups, in both academic and traditional clinical healthcare settings. She also completed additional studies in the field of thought reform, hypnotherapy for pain management, and Post Traumatic Stress Disorder (PTSD) that is often associated with cultic group involvement. Her nursing experience ranges from intensive care, the training of critical care nurses, hospice care, case management and quality management, though she currently limits her practice to forensic medical record review and evaluation. Most of her current professional efforts concern the study of manipulative and coercive evangelical Christian groups and the recovery process from both thought reform and PTSD.
Read everything by Cindy Kunsman!
~~~~~~~~~~~~
If this is your first time visiting NLQ please read our Welcome page and our Comment Policy!
Comments open below
NLQ Recommended Reading …