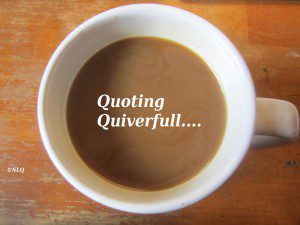 by Nancy Campbell from Above Rubies – Logic or Faith?
Editor's note: Nancy has started to answer some of the comments from her posts that don't line up with the pump out the babies or else theology she preaches on her site. They are perfect examples of the breathtakingly bad theology preached in the Quiverfull movement that ignores all common sense for a twisted messed up pile of illogical mixed with Bible. So God promises to provide for each child? What happened with all the children living in the abject poverty of someplace like, say, inner city slums? Why didn't God provide for them?
Another lady comments on my post, WHAT I WOULD HAVE MISSED which you can read below. "I am torn with allowing God to bless us with children and the call to be good stewards of our money. If we are struggling financially, I've been told it is the responsible thing to take a pill or use condoms or take some measure to make sure we don't have any more children we can't afford. I've been told if we use WIC, we shouldn't have children anymore. I've been told if we run out of money for groceries, allowing God to bless us with more children is irresponsible. So I'm torn. We are financially in dire need."
I wonder who gave this advice to this mother? It certainly does not come from God, or His Word. It is humanistic reasoning. Why do we who are God's people listen to man rather than God? Why do we think man's word is to be obeyed rather than God? I think it is because man uses human logic, whereas God's ways require faith. There is only one way we can please God and that is by faith. Hebrews 11:6 says: "Without faith it is IMPOSSIBLE to please God."

Of course it is true that every husband must be faithful to God's calling upon his life to be the provider of the home. He is to work hard to provide. And he always has a job. For if he currently doesn't have a job, he still has a full-time job of looking for a job. If he does his full time looking for a job, not just waiting for one to fall in his lap, he will soon have one.

However, if a husband is faithful to work, he can then trust God to provide far beyond what he is able to in his own ability and strength. God always provides for His children. Throughout our whole life we have lived beyond our lowly income and God has always miraculously provided. David said, "I have been young, and now am old; yet have I not seen the righteous forsaken, nor his children begging bread" (Psalm 37:25).

God's Word is filled with promises about providing for children. To check them out, go to this link: http://tinyurl.com/CanGodProvideforBaby
QUOTING QUIVERFULL is a regular feature of NLQ – we present the actual words of noted Quiverfull leaders, cultural enforcers and those that seek to keep women submitted to men and ask our readers: What do you think? Agree? Disagree? This is the place to state your opinion. Please, let's keep it respectful – but at the same time, we encourage readers to examine the ideas of Quiverfull and Spiritual Abuse honestly and thoughtfully.
If this is your first time visiting NLQ please read our Welcome page and our Comment Policy!
Comments open below
NLQ Recommended Reading …