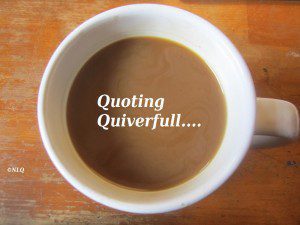 by Michael Pearl from No Greater Joy – Jumping Ship
Editor's note: Gasp! Michael just admitted that even atheists can live a "good life"! But then he goes right back into his toxic blaming shaming speech of referring to public school children as "Sodomites," cancelling out anything good he might say about anyone without his worldview. Followed by some ridiculous twaddle about 'natural life' and 'Jesus life'. Ugh.
Many families have a tradition of being "good Christian people." They are hard- working, honest, and respectable. They choose to live a "good life" and avoid the consequences of sin, and so they expect their children to see the wisdom of this lifestyle and choose it for themselves. They attribute their good lifestyle to their religious convictions. They could never even imagine that their children would choose a low-class life of shameful sin.

Parents make the mistake of thinking that their "good life" is a recommendation for the Christian life, but a "good life" can be lived by anyone of any religion, or by an atheist, for that matter, as observation so easily attests. There are Sodomites in the public schools who are happier than some Christians. There are fornicators and adulterers who love each other more than some Christian parents. The movies represent evil people as full of life and fun. Video games, bursting with big-busted women and powerful young men slaying their adversaries, provide the boys with the conquest they need. A trip to the mall reveals to the young person that there is a lot of "loving fun" over on the other side. What have you got that is better? How do they know it to be so? You'd better believe it right now that they won't for a moment buy an "old fogy's" argument.

There are actually only two kinds of lives lived on this planet. The "natural life" whether in doing evil or doing good, or somewhere in between, and the "Jesus life," which is much more than a life of doing or being good. Jesus said, "I am come that they might have life, and that they might have it more abundantly" (John 10:10). The Jesus life is an abundant life of joy and love. It is a life of honesty, judgment, and sacrificial service. There is no hypocrisy in the Jesus life. "But the fruit of the Spirit is love, joy, peace, longsuffering, gentleness, goodness, faith, meekness, temperance…" (Galatians 5:22-23). Peter says, "ye rejoice with joy unspeakable and full of glory…" (1 Peter 1:8). Do your children know you as a person who rejoices with "joy unspeakable", and do they see your life as being "full of glory"? Then, what have you got to offer your kids that will hold them to your worldview? How is the life you have chosen better than any other? Prove it to them without joy, and you will have done the preposterous.
QUOTING QUIVERFULL is a regular feature of NLQ – we present the actual words of noted Quiverfull leaders, cultural enforcers and those that seek to keep women submitted to men and ask our readers: What do you think? Agree? Disagree? This is the place to state your opinion. Please, let's keep it respectful – but at the same time, we encourage readers to examine the ideas of Quiverfull and Spiritual Abuse honestly and thoughtfully.
If this is your first time visiting NLQ please read our Welcome page and our Comment Policy!
Comments open below
NLQ Recommended Reading …