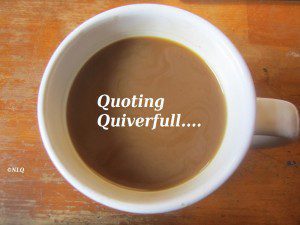 by Heath Stoner from The Trailer Club – The Gentlemen's Guide To Training Your Wife
Editor's note: Not sure that The Trailer Club is necessarily 'Quiverfull' but they are certainly complementarian and patriarchal. While these methods of training are still better than anything proposed by Michael Pearl it's still a harmful unhealthy idea to think that your spouse needs to be 'trained' in the first place. Some of these ideas are uglier than three day old fried chicken.
1. A Gentleman brings training to his wife by putting her in training environments

My wife enjoys drinking coffee and being out in nature. I give her time to train her soul to be nourished by being generous with encouraging her to have alone time. The time she has by herself to contemplate, pray, and recharge is invaluable to our marriage. In fact, I would say this is one of the most valuable training times she has. What training environments do you need to encourage your wife to be part of?

2. A Gentlemen only brings training to his wife if she asks for it

One of my favorite quotes is, "When the student is ready, the teacher will appear." My wife often has said in our marriage that she married me to be her husband, not her life-coach. I couldn't agree more. So, when my wife asks for specific help or advice, this is usually when I give her the full breadth of my training. As I said before, my wife was thoroughly trained growing up and through her own preparation is a dynamic human. If I try to give her training without her asking for it, most likely I will not be seen as a Gentlemen by her, but as a patronizing know-it-all.

3. A Gentlemen realizes the best way to bring training to his wife is by her seeing him be trained.

There are a million applications to this one. If you want your wife to work on her training in adventure, then are you training yourself to be adventurous? If you want your wife to work on her health, are you an example of vibrant health? If you want your wife to be prudent with finances, are you disciplined in that area? I love the beginning of every major NASCAR race: "Ladies & Gentlemen, start your engines." Work on starting your own engine and it is amazing how your wife will work on starting her own.

4. A Gentlemen provides financial resources to bring training to his wife

If you wish your wife would grow in her culinary skills and she also has a desire to, then assist her in signing up for classes. If you wish your house was cleaner and your wife is maxed out at work and other obligations, you may want to hire a house cleaner once in a while. The key here is to stop complaining either externally to her or internally in your head about what you wish she would be more skilled in. Instead, wait for her to say she would like to be better at something, and then say you would love to be part of helping her achieve that by either encouraging her or allocating resources toward that desire.
QUOTING QUIVERFULL is a regular feature of NLQ – we present the actual words of noted Quiverfull leaders, cultural enforcers and those that seek to keep women submitted to men and ask our readers: What do you think? Agree? Disagree? This is the place to state your opinion. Please, let's keep it respectful – but at the same time, we encourage readers to examine the ideas of Quiverfull and Spiritual Abuse honestly and thoughtfully.
If this is your first time visiting NLQ please read our Welcome page and our Comment Policy!
Comments open below
NLQ Recommended Reading …