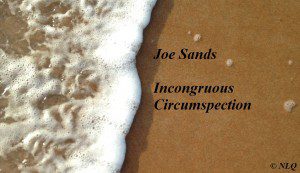 by Joe Sands cross posted from his blog Incongruous Circumspection
During the Fox News interview on June 3rd, JimBob and Michelle Duggar came up with the following conclusions, which I shall paraphrase for them:
Josh mostly touched the girls over their clothes

When he did touch the girls under their clothes, it was only for a few seconds

The girls were asleep at the time of the touchings and were unaware of the goings on

Josh personally and un-prodded-ly confessed to his parents

He had tears

Jesus forgives
Let's leave off the 'Jesus forgives' conclusion in my assessment of this treatment of sexual abuse. I've already spoken at length about the theology of "ignore my crimes, God forgave me" that the Duggars espouse so well. Instead, let's imagine something:
It's a cold and rainy evening on the long slog back to my college dorm. I have a very beautiful girl on my arm, who turns on every light bulb in me, including my non-existent soul. As we walk, I can smell the shampoo she used a few days prior, to wash her hair, mixed with the deliciously pungent scent of sebum oil.
I breathe deeply, wrapping my arm around her a little tighter. She sighs and we continue to awkwardly stumble home.
We pass her dorm. She makes no motion to turn and walk up the steps, but instead, gives me a knowing glance, the moon lighting up the features of her stunning face, revealing her lips, slightly parted, her breath panting through them.
As my heart begins to race, I try not to quicken my pace, knowing full well what she seems to be desiring and wanting to finally experience this woman, in her full naked glory, expressing our love together for an entire night.
After what seems like an eternity, we arrive at my dorm room, open the door, and immediately fall onto my bed, kissing deeply and passionately, grasping aimlessly at each others clothed bodies.
As I make a move to slowly slide my fingers beneath the front hem of her panties, while at the same moment, allowing my lips to brush the nape of her neck, she murmurs ever so softly, "Let's sleep, wrapped in each others arms."
I kiss her on her forehead and whisper back, "As you wish," and move down to her feet to lovingly remove her shoes and socks. Then, pulling the blankets over us, we do as she desires, which, funny enough, as do I.
According to the Duggars' rules, there is nothing wrong with me hopping out of that bed, handing her a drink with a rape drug in it, then having my way with her – only for a few seconds – and tearfully admitting to it in the morning.

After all, Jesus will have forgiven me.
~~~~~~~~~~~