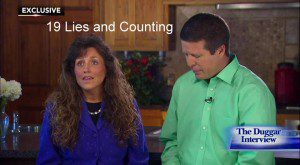 by Suzanne Titkemeyer
..and why are they saying that both the Washington County Sheriff's Dept and the Tontitown Police might be opening an investigation as well? Yesterday morning In Touch Weekly released police reports from that recent 911 call made by a DHS worker investigation allegations that a child was in need. Tontitown Police released their documentation that lists it as an ongoing investigation. Expect to seem much more in this new allegation as Tontitown Police investigate and In Touch uses the Freedom of Information Act to get the legal documents.
See what was released at In Touch Weekly – Child Services Investigation Into The Duggars Continues As They Remain Silent
According to several conservative websites there is a reason that Jim Bob Duggar has an actual axe to grind against police chief Kathy O'Kelly, the fact that she is a lesbian. Jim Bob accused her of complying with the FoiA request because she had it in for them or had taken a bribe. Considering all the gay bashing and transphobia exhibited by the Duggars it makes sense that dim bulb Jim Bob might think the records release is some sort of revenge agenda instead of a civil servant simply complying with a law.
More at FITSNews – Duggar Drama Blaming The Lesbian Police Chief
Remember when this whole horrible thing was announced and Jim Bob and Michelle Duggar appeared on Fox News and made a little noise about possibly suing over the release of records? It was reported then that they'd hired an attorney to pursue possible legal action. Someone over at The Inquistr did a little digging and this new lawyer does not specialize in handling CPS allegations or suing law enforcement. What he does specialize in is business law, particularly 'breach of contract'. I'm wondering if the law suit we will see that comes out of this will be by the Duggars against The Learning Channel. The show still hasn't been officially cancelled but they have had some of the highest ratings ever after removing the Duggars from the schedule. Plus there is news that they are going to be replacing the Duggars with a show about a transgendered teen.
From The Inquistr – Duggar Family Lawyers Up: Are They Protecting Josh or The Show?
And on a silly note many people are talking about Derick Dillard's recent appearance after having some sort of oral surgery, saying that he looks 'rough' and 'sick'. Frankly he looks the same to me, a little more scruffy, but not extremely different. Many sites are speculating why they think he looks so different.
The Inquistr – Jill Duggar's Husband, Derick Dillard, Looks Totally Different After Surgery
If this is your first time visiting NLQ please read our Welcome page and our Comment Policy!
Comments open below
NLQ Recommended Reading …