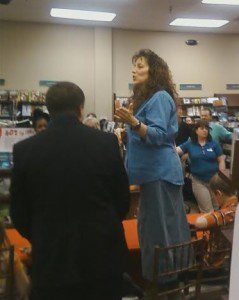 Tomorrow night at 9 pm est Jim Bob & Michelle Duggar will be appearing on the Fox News show 'The Kelly File' with host Megyn Kelly to 'share their heart.' I think we can all guess what the Duggars might say. It will be things like…
Josh has repented
They handled it properly as a family
It's brought them closer together as a family
They've all forgiven Josh and forgotten the incident
There will be references to God's mercy.. not that they have any for transgender people..or homosexuals.
It will be predictable and be on brand message in an attempt to salvage their television show and family reputation. Lies will be told straight from Bill Gothard's ATI Wisdom booklets.
The only unpredictable thing will be the questions Megyn Kelly asks the family. That is the true wild card in this situation even if Fox News has gone way out of their way not to cover the Duggar scandal. Megyn identifies as a feminist, divorced and a Catholic, three things that the Duggars stand against. She sometimes grills people on her show that others on Fox News handle with kid gloves, most recently she was very rough on Duggar friend Mike Huckabee on her show. So there is hope that she'll ask the right questions and not just fawn all over Jim Bob & Michelle Duggar like a star-struck fan. This should be worth watching.
Check your local listings for times in your area.
What questions do you think she should ask the Duggar parents?
ETA @ 2:00 pm – Well crud… according to Mediaite Megyn Kelly has already announced that she's going to allow the Duggars to tell their story, not cross examine them. How disappointing.
If this is your first time visiting NLQ please read our Welcome page and our Comment Policy!
Comments open below
NLQ Recommended Reading …