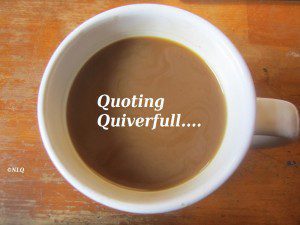 by Michael Pearl from No Greater Joy – Jumping Ship Part 2
Editor's note: So Michael advocates allowing your sons to have legitimate adult responsibilities and follows that up with a story about beating his adult son at wrestling, saying, "Made him eat sand. It was a great feeling—a measure of my manhood." Michael tells you to do one thing yet it sounds like he's doing quite another entirely. It's not supposed to be about him or his so called 'manhood,' it's supposed to be about raising healthy well adjusted children into young adulthood.
Kids must be able to stand up on that bow and imagine the world to come. This thirteen-year-old boy is building a list of hopes, a vision for the future. He wants to be somebody, do things, go places, live life with a bang. He is developing role models, and I seek to be prominent among them. He has a fine father whom he admires, who does things with him. He is on a different ship, but our ships are running a parallel course, his father and I sailing to the same destination. For a little while our paths cross, and I, among others, reinforce the values his father is teaching him. He is developing confidence that there is hope in his circle; that his dreams can find fulfillment on the ship his father is piloting. This young man will not jump ship if he is confident that the ship he is on is going to deliver him to the shore of his dreams.

If you have a seventeen-year-old whom you treat as a passenger, not allowing him to take significant responsibility, not listening to or instituting his ideas, he will not be content on your ship. He already thinks he is smarter than you are. The only way to prove that he is not, is to go along with some of his ideas until they fail; and when they do fail, act surprised and encourage him to try again. Never say, "I told you so." If he is to grow, he must experiment, resulting in both failure and success. Until a man has failed, there is no steel in his bones. Just be thankful that you can be there to facilitate and supervise his endeavors.

As my boys got into their later teens, I found that upon occasion they did have fresh ideas that were better than my "old-fashioned" way of doing things. The first time a father backs up on his own position and admits that his son is right, is a time of incomparable bonding and trust. The boy will become happier and more content than you have seen him since he got his first shotgun. And you will find him more willing to respect your wisdom when it is manifest.

My boys and I often discussed issues and concepts: politics, philosophy, science, war, the Bible, human nature, rocks, plants, construction. Anything you can think of, we talked about it. I respected their opinions, even when I disagreed with them. As they got into their middle and later teens, I could see a growing desire to beat me at anything. I remember challenging my daddy to arm wrestling until I could finally beat him. I didn't really want to put him down; I just wanted his respect, for him to appreciate that I was a man. I never "let" my boys beat me at anything. When Gabriel was about nineteen or twenty years old, six foot five, I beat him wrestling. Made him eat sand. It was a great feeling—a measure of my manhood. I am afraid that now I could no longer take him wrestling. I acknowledge his strength. Both the boys now run circles around me in math. When we are figuring house plans, there is no question but that I yield to their figures. It doesn't keep me from trying to catch them in an error. That always helps make my day.

I am making a point about the nature of children, especially boys. My boys are just like I was when I was young. Your boys are just like mine. This drive to be respected, to be recognized as a force to be reckoned with, is born in boys, but it takes control when they go through puberty. If your ship provides an outlet for your sons to express themselves as apprentice captains, if they see hope that they will not always be just labor on the lower decks, they will stay on your ship with hope of greater things to come.
Part 1 | Part 2 | Part 3 | Part 4 | Part 5
Part 6 | Part 7 | Part 8 | Part 9 | Part 10
QUOTING QUIVERFULL is a regular feature of NLQ – we present the actual words of noted Quiverfull leaders, cultural enforcers and those that seek to keep women submitted to men and ask our readers: What do you think? Agree? Disagree? This is the place to state your opinion. Please, let's keep it respectful – but at the same time, we encourage readers to examine the ideas of Quiverfull and Spiritual Abuse honestly and thoughtfully.
If this is your first time visiting NLQ please read our Welcome page and our Comment Policy!
Comments open below
NLQ Recommended Reading …